If you can't stand the usual Christmas TV fare, then we've got you covered from footy to films and even a few podcasts on Spotify.
Christmas is coming, bringing with it the predictable glut of festive TV. Even if you like all the special Yuletide episodes, chintzy tinsel-draped seasonal flicks and old Bond movies, you may start hankering for something different.
Fortunately, Amazon Prime Video is bursting with TV shows, movies and sport to enjoy. Here's our pick of what to watch this December. If you'd rather listen than watch, we also have a couple of recommended podcasts available to listen to on Spotify.
Plus, if you're a Vodafone UK Pay Monthly customer, you can choose to have either Amazon Prime Video or Spotify Premium included with your plan for a low monthly fee.
Premier League football
Football fans have two dozen Premier League matches to enjoy on Amazon Prime Video in the month ahead. From Leicester vs Brighton on 13 December all the way through to the London derby on 30 December between Spurs and Fulham. Punditry will be provided by the likes of Alan Shearer and Ally McCoist, but don't let that put you off.
A Streetcat Named Bob
A film touching on homelessness in London sounds like depressing fare, but this is actually a heartwarming feel-good tale based on a true story. James, a recovering addict getting himself off the streets, is helped along by a charismatic ginger tom named Bob. Through Bob's companionship, and the people he meets thanks to the moggy's presence, James slowly and fitfully pieces his life back together.
Although you'll be able to see the ending from a mile away due to the predictable plot structure and archetypal character development, this film is still cosier than a purring cat on your lap. Plus, the film's eponymous feline lead was played by the real Bob himself.
The Expanse
The Expanse follows the motley crew of a 23rd Century spaceship attempting to make a living in our solar system, but this TV series is more Deadwood than Star Trek. Life on this final frontier is brutish, cheap and short, and not just because of the dangerously fragile spacecraft. Exploited settlers live under oppression and discrimination, while the simmering cold war between the Earth and Mars governments threatens to go nuclear at any moment.
Although some of the cast are clearly learning how to act as they go along, the intricate world building will pull you in. Look out for Shohreh Aghdashloo who plays a wonderfully acerbic and foul-mouthed UN official.
Modern Family
Family life can be exasperating and joyful in equal measure, as this half-hour sitcom shows to hilarious effect. Filmed in a quasi-mockumentary style, Modern Family doesn't just follow Claire Dunphy and her nuclear family of 2.4 children. It also features her father Jay, now remarried to a much younger woman, and her gay brother Mitchell who starts a family of his own.
While unconventional to some, the sprawling clan of Modern Family is rarely dull and always funny.
Dark Waters
While Dark Waters stars superhero stars Mark Ruffalo and Anne Hathaway, this is no tights-and-flights flick but a legal drama based on a true story. Dark Waters depicts one of the biggest environmental scandals in US history, as a chemical company attempts to cover up its poisoning of a small American town. Ruffalo delivers a relatable performance as a quiet everyman drawn ever deeper into a quagmire of money and corruption.
Hateful Eight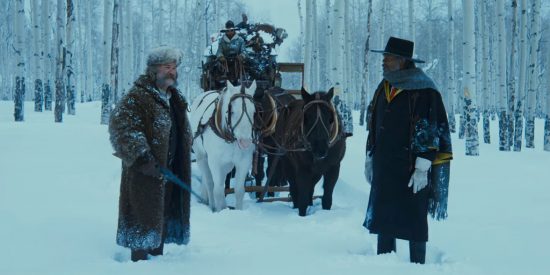 This Tarantino western starts in the wintry Wyoming wilderness, but soon moves the action to a snow-encrusted log cabin lodge. There, an unruly gaggle of predictably foul-mouthed, untrustworthy and violent critters attempt to outfox each other. The all-star cast includes Kurt Russell and Channing Tatum as well as a host of Tarantino regulars from Samuel L Jackson to Tim Roth.
The Gentlemen
If you can't get enough of A-listers playing dodgy geezers, then The Gentlemen will be your cup of tea. Much like director Guy Ritchie's previous London underworld films, this flick sees characters with names like Big Dave, Mickey and Dry Eye get caught up in various comedic criminal capers.
While The Gentlemen feels a bit too familiar to Ritchie's previous 'gangster' efforts, it's enjoyable enough as a guilty pleasure – especially with the presence of Hugh Grant and Matthew McConaughey. It's worth a butcher's hook.
Die Hard 2
Although this sequel isn't in the same league as the classic first film in the Die Hard series, this Christmas-set action film is still good value. Bruce Willis plays John McClane who once again has to save the day – and his missus – with nothing but his guts and guile.
Christmas Past
The litany of Christmas traditions seems endless and ancient, but many have surprising and quirky histories that you probably didn't know about. From how the parasitic plant mistletoe became associated with Yuletide to the remarkably recent history of wrapping paper and the various seasonal traditions found in Canada, Christmas Past is almost always a rewarding listen.
The Calm Christmas Podcast
Like almost anything to do with family and gatherings, Christmas can be a stressful and frenetic time. This podcast from author Beth Kempton offers tips and advice on how to have as peaceful a festive period as possible. Although some of the advice may sound obvious, Kempton's gentle yet assured voice helps them stick in your head.
Gastropod
For many, Christmas is all about the food. If you want to learn more about food in general, then Gastropod is the podcast for you. Presented in a conversational style, but deeply researched, Gastropod examines the history and science of eclectic topics from the biology of hangovers to the origins of cranberries and potatoes.