After months of enforced home schooling – and a well-earned break – children in England are heading back to the classroom (Scotland began re-opening its schools in August). What tech will help with their learning in school and at home?
Some students (and parents) can't wait for normal school life to return; others are worrying about safety and how Covid-19 rules will affect the school day.
Either way, it's a big transition. But just as technology has enabled families to stay learning and connected during lockdown, tech can also help kids with their in-school learning and enable schools to offer a better learning experience.
Here's our guide to the best 'back-to-school' tech around.
Educational apps for all the family
School-parent communication apps such as Smart School's Parent App proved a useful tool for many families during lockdown.
But they are far from the only educational apps that can help ease you into the new academic year.
For secondary school children, these include Khan Academy, a free app that supports studies in subjects ranging from economics to medicine, and myHomework, which helps students manage their daily timetable, as well as homework assignments.
Duolingo is also great for language students, while for younger kids, top learning resources include Teach Your Monster To Read, Endless Numbers, and Twinkl, which is packed full of fun stuff, ranging from interactive maths games to animal flashcards.
Busy parents may also appreciate Remember The Milk, which lets you set tasks, share them with other family members, and receive reminders by email, text, Twitter, or instant message.
Which phones and tablets?
Many parents choose the beginning of a new school year to give kids their first mobile phones. But are you sure they're ready and have you discussed what type of phone may be best for them?
In the first instance, you could always look into smartwatches that are made specifically for children – like Vodafone's V-Kids Watch, for example.
Have a look at the Digital Awareness UK video below for some useful advice.
Your child's first phone doesn't have to be the latest smartphone. Basic handsets make good starter phones – and are definitely cheaper to replace if (when) they get lost or broken.
Options to consider include the Nokia 130, designed mainly for calling and texting, and the Doro 1370, which has a simple camera and is easy to use.
For a reasonably priced smartphone, meanwhile, recent launches include the Apple iPhone SE, or the Samsung Galaxy A series of handsets.
When it comes to tablets, younger children will love Amazon's new Fire HD 8 Kids Edition, the adult version of which is a well-priced option for secondary schoolers too.
Alternatives for older students include the iPad mini and the lower end of the Samsung Galaxy Tab range.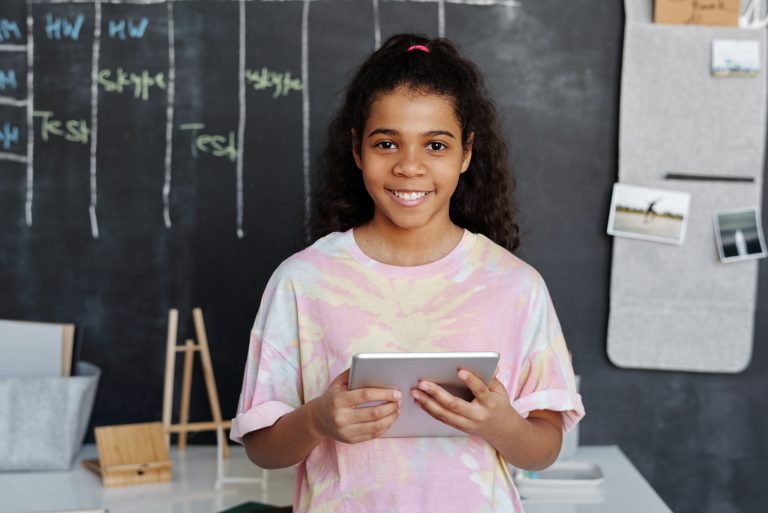 Credits: Pexels
And for laptops, an entry-level HP Chromebook is a robust and affordable choice.
For a bargain, you can also check out eBay's refurbished laptops, which are often half the price of new and come with a 12-month warranty.
Connected classrooms
According to a 2018 survey by the National Literacy Trust, 90% of teachers thought technology helped with key skills such as reading, writing, and listening.
In fact, in-school tech has been quietly changing the way your children learn long before coronavirus raised its ugly head.
Interactive whiteboards, for example, were already in 90% of UK classrooms back in 2016 – allowing teachers to jazz up dry topics by interacting with computer images and textbooks.
Many schools also use smart ID cards to allow children to pay for snacks and drinks without carrying cash, and to gain access to facilities such as science labs.
Now, however, the pace of change looks set to move up a gear.
Future gazers predict IoT tech will soon be used to manage classroom temperature and humidity to ensure students and teachers can work in comfort.
Credits: Pexels
With 5G gradually becoming available in schools across the UK, faster, more reliable downloads will also pave the way for more students to live what they learn via virtual reality (VR) headsets freed from cables attached to computers.
Other potential areas of investment include tablet-based lessons similar to those Vodafone Foundation's Instant Network Schools programme brings to refugee children in Africa.
Its 'digital school in a box', which includes a laptop, 25 tablets pre-loaded with educational software, a projector, a speaker, and a hotspot modem, boosted attendance rates at one school in Kenya by 15%.
Parental Guidance
Like most good things in life, tech is best enjoyed in moderation.
So it's important to lead by example if you want your kids to have a healthy relationship with all this technology.
Vodafone's Digital Family Pledge is an easy way to set some ground rules on how everyone in the family uses tech – from how much screen time each person is allowed to what can and can't be shared on social media.
You can also set parental controls on everything from mobile phones to household computers, adjust social media privacy settings, or monitor online activity using a free app such as Qustodio.
For more advice on making tech work for your family, check out Vodafone's Digital Parenting magazine.