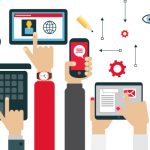 Vodafone is removing line rental charges for new and upgrading fibre optic home broadband customers – they will still receive a landline and enjoy the benefits, but won't have to pay a penny for it
Vodafone's Unlimited Fibre Broadband 38 is now the lowest price for unlimited fibre broadband in the UK market vs major broadband providers and best pricing has been reserved for existing mobile customers who will save an additional £3 per month
Customers that purchase Vodafone Unlimited Fibre Broadband 76 can save up to £349 during the 18 months in comparison to Sky Fibre Unlimited Pro (76 mbps) and £332 vs BT's Unlimited Infinity 2 (76mbps) *
All fibre broadband packages are unlimited and deliver high speed broadband across the UK
Vodafone UK today unveils its next step in the journey to become one of the UK's leading providers of consumer communications and entertainment services by putting an end to home broadband line rental charges for all new and upgrading Vodafone Unlimited Fibre Broadband customers.  By abolishing line rental charges for all new and upgrading Vodafone Home Broadband customers, Vodafone is removing one of the major irritants and frustrations for UK consumers.
As part of the new, transparent and easy to understand home broadband pricing structure, customers will still receive a home phone service – there is just no charge for the line rental.  Often seen as an unexpected, underused and expensive addition to a broadband package broadband users are required to pay for landline connections to receive broadband internet access which is why the hassle of paying for the cost of line rental has been removed.  Ofcom market research conducted in 2016 suggested that 73% of those with a landline phone at home said that they used it for internet access, with 45% stating that internet access was the most important reason for having a landline**.
Vodafone is committed to providing affordable fibre broadband that is up to nine times faster than the UK's average standard broadband speed.  Vodafone Unlimited Fibre 38 is the lowest priced unlimited fibre broadband in the market, versus other major broadband providers and with no hidden monthly fees or usage caps, existing mobile customers can enjoy superfast internet on our Vodafone Unlimited Fibre 38 package from only £22 a month all in.  New customers can enjoy Vodafone Unlimited Fibre 38 for £25 per month and Vodafone Unlimited Fibre 76 for £28 per month – a package that is £332 cheaper than BT's Unlimited Infinity 2 (76mbps).
In launching this new broadband package structure, Vodafone is also making its broadband pricing clearer and simpler to understand.  Joint research by Ofcom and the ASA, published in January this year, revealed that some broadband providers are likely to confuse and mislead consumers about the true cost of deals, with under 25 percent of people asked in a poll by the ASA correctly identifying the total cost per month after their first viewing of an advert. Vodafone's new Home Broadband pricing acts on this research – not just promising action in the future.
Vodafone has been active in the consumer broadband market since the launch of its Home Broadband and Phone services in June last year.  Available at speeds up to 76 Mbps, Vodafone's nationwide, fibre optic, business grade network already reaches exchanges which pass over 24 million premises across the UK. Combined with the plug-and-play Vodafone Broadband router the service delivers speed, reliability and cutting-edge features which lets customers share, stream and shop to their heart's content.
Glafkos Persianis, Commercial Director at Vodafone UK said: "Giving our customers the opportunity to break free from hidden line rental charges is our way of letting our customers know that we are listening and that we are serious about providing them with the Unlimited Home Broadband experience that they deserve.  We started our journey into fibre optic home broadband just over a year ago and are delighted to show that we are a truly innovative and customer focused provider.  We know our customers depend on us to stay connected, and now we can satisfy their needs both at home and on the go whilst also putting an end to line rental charges."
The innovative Vodafone Home Broadband companion mobile app, coupled with the router, offers a range of features which will give customers greater control over the devices in the home: 'Boost' allows customers to supercharge any device connected to their home network, giving that device priority over others; 'Beam', which uses Beamforming technology, sends a stronger Wi-Fi signal to compatible devices wherever they are in the home; 'Family Time' allows customers to easily manage and set time limits, giving them control over when Wi-Fi is available and when it's not;  and 'Guest Wi-Fi' allows controlled Wi-Fi access to household guests in one click.
– ends –
Notes to editors:
For our most recent price comparisons, further details and terms see vodafone.co.uk/broadband.
*Price comparisons: 18 months price comparison based on Vodafone's Unlimited Fibre 38 (up to 38mbps): 18 month min. term, £22 per month for existing mobile customers, compared to; BT's Unlimited Infinity 1 (up to 52mbps): 12 month min. term, £10pm for 12 months, £26pm thereafter, plus £18.99pm line rental (incl. Weekend Calls, Net Protect + Parental controls, BT Sports Pack and 100GB cloud storage); Sky's Fibre Unlimited (up to 38mbps): 12 month min. term, £10pm for 6 months, £20pm thereafter, plus £17.40pm line rental;. TalkTalk's Fibre Unlimited (up to 38mbps):18 month min. term, £5pm for 12 months, £17.50pm thereafter, plus £17.70pm line rental. Virgin Media's Super 50 Fibre Broadband (up to 50mbps) and calls: 12 month min. term, £12pm for 9 months, £19pm thereafter, plus £17.99 line rental. Price comparisons exclude new line installation cost and any additional reward cards. Prices correct at 01.08.16.
Up to 40% faster than BT: Comparison based on theoretical maximum download speed of service (up to 76mbps vs up to 52mbps). Speeds referred to are max. download speeds & may vary significantly by location & are dependent on equipment meeting min. specifications, being fully functional and working at full speed.
**Ofcom research::  According to Ofcom market research report further details please visit http://stakeholders.ofcom.org.uk/binaries/research/cmr/cmr16/uk/CMR_UK_2016.pdf