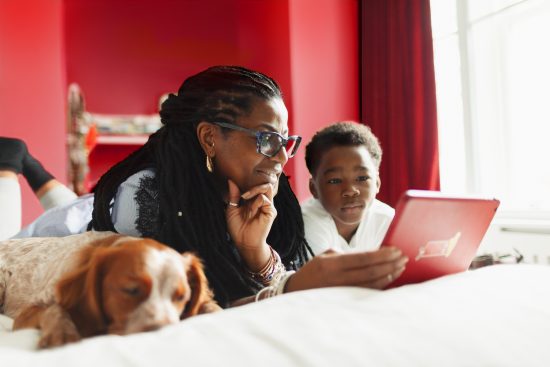 Get unlimited mobile data and home broadband in one great deal
First UK operator to launch a 5G mobile and broadband bundle with new Vodafone Together.
Customers can combine unlimited mobile data and home broadband for £43 a month, with no extra charge for 5G.
Free Amazon Echo Plus for new home broadband orders*.
World's first hands-free calling via Amazon Alexa and Vodafone OneNumber.
One simple sign-up process, one order and one easy to manage bill via the My Vodafone App.
Unrivalled support with Vodafone's 400+ stores offering both mobile and home broadband service under one roof – or contact us 24/7 via the app or online.
Vodafone Together combines 4G and 5G unlimited mobile data and home broadband. By bringing together home broadband and mobile into one great deal, Vodafone Together customers will enjoy extra discounts, as well as benefit from the ease and simplicity of one bill, all managed through the My Vodafone App.
From today, customers can combine unlimited home broadband and unlimited mobile data for just £43 a month, with 5G at no extra cost. For a limited time, new home broadband customers also receive a free Amazon Echo Plus. Vodafone UK is the world's first operator to enable customers to make and receive calls via Alexa using their mobile plan, helping them make even more of their unlimited mobile call allowance and ending the need to make calls via a landline.
New Vodafone Together plans start from just £31 a month for a combined 18 month SIM-Only and home broadband plan. Customers can save up to £400 compared to BT over an 18 month period**. Vodafone Together is also available on all pay monthly plans.
Extra benefits
Vodafone Together comes with unrivalled service benefits, including 24/7 live chat support online or via the My Vodafone App. Customers can also discuss or order both home broadband and mobile plans by visiting any one of Vodafone's 400 plus UK retail stores. By the end of this year, an additional 20 new Vodafone or Vodafone franchised partner stores will open, making it even easier for customers to get broadband and mobile support in one place. All Vodafone Together plans can be easily managed through one bill on the My Vodafone App.
Customers also benefit from a further 15% discount for any additional mobile plans added to the account – perfect for families or households with multiple mobile plans.
For only £6 more on 20GB, Unlimited or Unlimited Max plans, a choice of entertainment partner can be added. You can choose from Spotify Premium, Amazon Prime Video, Sky Sports Mobile TV and a Now Entertainment Pass.
For those who don't choose an Unlimited mobile plan, Vodafone's Stay Connected Promise gives customers extra peace of mind, with a 50GB boost to all the mobile plans on the same account if the linked home broadband ever lets them down. This is in addition to the Ultimate Home Broadband Guarantee, the only guarantee in the industry that promises a minimum sync speed across all home broadband plans or money off until the issue is fixed.
Broadband customers can also control their usage with Vodafone's Home Broadband App that lets you pause Wi-Fi, boost or prioritise speeds to devices, give guests access and has live chat support.
Vodafone Together pricing:

Max Taylor, Consumer Director Vodafone UK said:
"It's exciting to be launching another game changing product with Vodafone Together – the UK's first 5G mobile and broadband bundle. The free Amazon Echo Plus is the perfect partner for Vodafone Together, allowing customers to make even more use of their free mobile minutes. With our world first Alexa calls and Vodafone OneNumber, landline calls really will become a thing of the past."
– Ends –
Notes to editors:
*Amazon Echo Plus: Available to new customers only who purchase Vodafone Superfast 1/2 directly from Vodafone. Customers must redeem the promotional code by 31st December. Subject to availability while stocks last. For further information and full terms, please visit vodafone.co.uk/broadband.
 **Savings were calculated over an 18-month period. All price comparisons exclude new line installation costs and any additional reward cards (unless stated). Prices correct as of: 12/08/2019.
Terms apply. Customers must be a new or upgrading home broadband customer and a new or existing mobile customer.
For more information please visit: http://www.vodafone.co.uk/vodafonetogether.