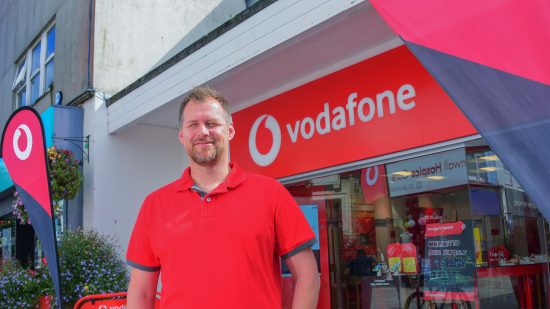 Vodafone extending its franchise operation to include vacant premises
Vodafone will take on at least 24 empty premises by the end of this year and fit them out as new retail stores as part of its franchise programme. This reflects Vodafone's ongoing investment in its retail presence to help customers get the most from its new services, including 5G and unlimited mobile data plans, by providing in-person support and advice.
With online and traditional shopping habits merging, Vodafone offers the best of both worlds. Customers are increasingly using Vodafone's digital personal assistant – TOBi – and My Vodafone App to research products and services on their smartphone or PC, and then following up with a visit to a store to make the purchase.
The new stores – the first two of which opened this month in Morecambe, Lancashire, and St Austell, Cornwall – use vacant retail outlets to help breathe life into high streets blighted by closures and empty stores. Vodafone will offer local entrepreneurs the chance to manage the new stores from day one and earn commission under Vodafone's successful franchise operation.
This is the first time that Vodafone is extending its franchise operation to include empty shops. There is no upfront cost to the franchisee and they are given a store that is stocked with the latest smartphones, wearables and connected devices.
Vodafone's stores attract more than 20 million visits per year and account for the majority of its sales. 70 per cent of pay monthly mobile sales come from its retail outlets. More than a third of Vodafone's existing 400 plus stores now form part of its franchise programme, with more than 50 added already this year.
The new stores will enable customers to try out a range of new services launched by Vodafone. This includes Vodafone Together, which combines unlimited data plans and home broadband, as well as hands-free calling via Amazon Alexa and Vodafone OneNumber.
Vodafone UK Chief Executive Officer Nick Jeffery said: "As a business with its roots in the UK, we are keen to do what we can to help local communities, whether that is giving local entrepreneurs the opportunity to be their own boss of a retail store or extending our network to remote areas."
"New services have helped us become the fastest growing home broadband provider this year and attract thousands of new mobile customers every week. With this momentum, we are looking to extend our high street presence so that we can provide face-to-face advice and support to even more customers."
Note to Editors
The addresses of the two new stores are:
Vodafone Store, 12 Royalty Mall, Morecambe, Lancashire, LA4 5DH.
Vodafone Store, Unit 1, 19 Fore Street, St Austell, PL25 5EP.
– ends –