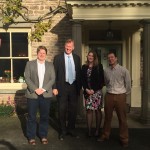 Vodafone UK lights up rural Herefordshire not-spot with reliable 3G coverage
Fownhope is the latest community to be connected in Vodafone's Rural Open Sure Signal programme
Fownhope's ROSS units are already taking an average of 150 mobile calls and supporting over 8,500 data sessions a day
Part of approximately £2 billion Vodafone is spending on its UK network and services across 2014 and 2015
Vodafone UK has announced the beautiful rural community of Fownhope in Herefordshire as the latest community in a rural mobile not-spot location to receive 3G coverage with Vodafone's Rural Open Sure Signal (ROSS) programme.
Situated on the banks of the River Wye in the beautiful Herefordshire countryside, Fownhope has until now suffered from unreliable mobile coverage and slow network speeds. The ROSS programme uses Vodafone's innovative Sure Signal technology to bring high quality 3G voice services and much needed access to the internet via mobile devices to communities in some of the UK's most beautiful and remote areas.  About the size of a cereal box, the Open Sure Signal units connect to existing broadband lines to create 3G coverage, and are installed high up on chimney breasts or the eaves of buildings.
The ROSS programme is a national initiative by Vodafone UK to provide reliable mobile access to up to 100 rural communities in mobile not-spot locations. Launched in July 2014, with support from local MPs, councils and rural action groups, the programme received an overwhelming response, with applications from communities across the country from the Shetland Islands to Cornwall and from the mountains of Snowdonia to the Norfolk coast.
Mobile connectivity plays a vital role in keeping communities in touch and helps support local economies. However, rural and remote locations often miss out on advantages provided by modern communication tools, due to the complexity of delivering network coverage. This can be because of the geography of the area or difficulties with planning permissions in places of outstanding natural beauty. The ROSS programme uses innovative 'femtocell' technology to provide an alternative solution to bring 3G mobile access in locations where it isn't possible for networks to provide coverage through traditional means.
As part of the ROSS programme, Vodafone teams have now surveyed each of the 100 communities which were added to the programme at the end of last year.  The surveys included physical ground assessments by Vodafone engineers as well as detailed fixed broadband speed checks. The teams have also drawn up plans for viable communities to illustrate where the equipment will be sited. The process saw some of the initial communities having their implementation postponed until their community broadband speeds and availability have improved.
Jorge Fernandes, Vodafone UK Chief Technology Officer, said: "I am delighted that Fownhope has joined our Rural Open Sure Signal programme. Mobile connectivity is an essential service for communities and businesses to thrive in today's digital world and support local economies. As part of the Rural Open Sure Signal programme, we are committed to investing in our network to provide access even in remote locations where it is otherwise almost impossible to reach. The number of calls and data sessions the unit is supporting every day, in an area where there was marginal coverage previously, shows the significant benefit the technology is making to members of the community. I am excited to see the transformation for Fownhope and other communities which have been successful for this pioneering programme."
Bill Wiggin, MP for North Herefordshire said: "When the proposed mast was cancelled I met local people to discuss how we could get a service that worked for Fownhope. We needed the new fibre optic broadband cable to be connected to get on to the Vodafone Rural Open Sure Signal (ROSS) programme, a national initiative by Vodafone UK to provide reliable mobile access to rural communities. Following my presentation of a petition to the Rt Hon Sajid Javid MP, Secretary of State for Culture, Media and Sport at the time, and a number of questions to the Government and phone providers Fownhope was accepted to the ROSS programme which has now gone live. This is an excellent outcome for Fownhope and I am delighted to have been able to play my part in delivering this important win for the community. This campaign and the successful outcome has made me rethink my current mobile phone provider, as Vodafone has demonstrated a real commitment to solving the problems of mobile phone signal for those in rural communities."
Kevin Braybrook, Village champion for Fownhope commented: "Nearly 18 months after we first started campaigning for better mobile phone signal in Fownhope we are delighted that the Vodafone ROSS system has gone live.  The campaign for a better mobile phone signal involved numerous Fownhope residents who helped collect signatures, monitor cell phone signal strength and lobby OFCOM.  Bill Wiggin played an important part in taking our campaign to parliament and Vodafone are so far, the only company to have taken a proactive role in bringing better mobile phone signal to rural areas like Fownhope. The Parish Council is grateful to Vodafone for providing the system at no cost to the village, and to the Vodafone engineers who did a great job designing and installing the system."
As well as using Rural Open Sure Signal to plug rural "not-spots", Vodafone is spending around £2 billion on its network and services across the country over 2014 and 2015.  This includes the provision of HD (High Definition) Voice technology on its 3G network and the extension of its 4G coverage to 679 cities and towns and thousands of smaller communities across the UK.
Further communities will be announced over the next few months. For more information on the programme, visit www.vodafone.co.uk/rural.
For more information please contact
Vodafone UK Media Relations
01635 666777
https://newscentre.vodafone.co.uk/
Notes to editors:
The programme involves the use of innovative 'femtocell' technology. Vodafone UK has pioneered the use of this technology with Vodafone Sure Signal. Launched in 2009, Vodafone Sure Signal is used by hundreds of thousands of people across the UK every day to boost their in-building 3G coverage. It plugs straight into a home broadband line. For more information visit vodafone.co.uk/suresignal
Pictures from the launch event are available on request.