Vodafone launches new resource to help empower families to have positive conversations about technology and the internet.
Digital Family Pledge tool unveiled by new Vodafone Digital Parenting ambassador Emma Bunton.
Launched in response to YouGov research that reveals parents want more support to manage their family's digital lives: 54% of parents say they aren't aware of what their children are doing online.
Series of UK-wide digital well-being talks in partnership with Digital Awareness UK, and publication of latest Digital Parenting magazine also announced.
Initiatives are part of Vodafone's ongoing commitment to help every family in the UK live a happy and safe digital life.
LONDON, UK: Vodafone and famous mum, solo artist, radio presenter and Spice Girl Emma Bunton have joined forces to launch the Vodafone Digital Family Pledge – a fun online tool that helps families create tech ground rules together and then turns them into their very own family pledge.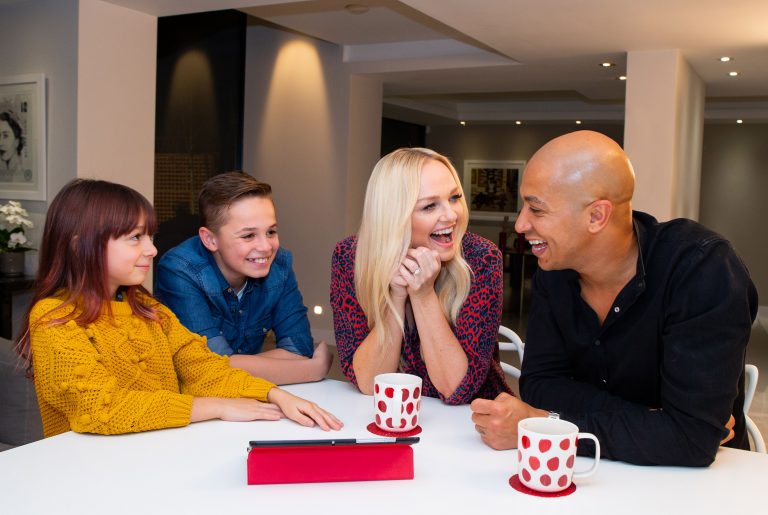 The free, personalised and interactive activity helps families to set their digital "house rules" together in an easy, fun way with the pledge covering everything from rules about devices at the dinner table to how they will use social media, with all family members agreeing to stick to it – parents included! The online tool encourages positive conversations about the role of technology in a family's life.
New research, commissioned by Vodafone in partnership with YouGov, form the inaugural annual Digital Parenting study and looked at the digital wellbeing of families in the UK and the challenges parents face managing the ever-changing online world.
The research discovered that 54% of parents say they aren't aware of what their children are doing online; yet they don't feel prepared to have conversations as a family, with almost four in 10 parents stating that they've never been given advice on their children's online behaviour. Four in 10 (40%) of parents also worry that their children are hiding online activity from them, with this rising to over half (52%) for parents of older children (12-16 years).
There is a desire to start conversations, with 33% of parents stating that being armed with more knowledge would help facilitate this. However, a quarter of parents cite barriers such as a lack of time to sitting down with their children to discuss online use, despite fears over safety (22%), excessive screen time (8%) and exposure to inappropriate content (17%).
The study also showed that 75% of parents believe their peers may not be honest about their own children's screen time due to a fear that it will reflect negatively on their parenting skills. In fact, almost half (48%) revealed that they believe other parents downplay the amount of time their children are online.
Vodafone has teamed up with the Bunton-Jones family to road test the pledge with Emma, partner Jade Jones, and two children Beau, 12 and Tate, 8. Vodafone Digital Parenting ambassador Emma Bunton said: "Doing the Digital Family Pledge was a really simple way of getting up to speed on the latest facts, sparking a conversation and agreeing some boundaries together – Jade and I included!  The kids are at that age where they want to play with new apps and games and are getting more interested in social media. At the end of the day, it's about being open and finding the right balance and the Pledge is a great way to help families do this."
In partnership with leading digital wellness experts, Digital Awareness UK, Vodafone will host a series of free talks for parents and carers across the UK throughout 2020. The events will take place in schools and community centres in London, Manchester, Eastbourne, Stoke-On-Trent, Sheffield, Brighton, Croydon and Birmingham.
Vodafone will also offer further support to families on their digital wellbeing journey through bespoke masterclasses in selected retail stores.  The 30-minute sessions will be delivered by Vodafone's expert advisors who already offer one-to-one advice on setting up new devices, software management, and tips and tutorials on how to get the most out of your phone.
Helen Lamprell, Vodafone UK General Counsel and Director of External Affairs said: "Vodafone wants to help every family in the UK live a happy and safe digital life – we've been supporting families for almost a decade with our Digital Parenting initiative. We created the Digital Family Pledge as a way to start conversations, focusing on the issues families need to be aware of. The pledge is about getting families to speak to each other, empowering young people to take responsibility for what they do online, and being open to discussing any challenges – not just the kids but parents too."
Vodafone's Digital Parenting is a free resource that offers the latest information and advice from researchers, psychologists and tech savvy parents. Launched as a free print magazine for schools, local authorities and GPs surgeries in 2012, and available online, Digital Parenting has served as an easy-to-digest resource for families for almost a decade. The January issue of Digital Parenting magazine is available now.
The Digital Family Pledge is available now at www.vodafone.co.uk/familypledge. To request a copy of Digital Parenting magazine, see Emma Bunton's tips on finding a good digital-life balance or find out more about the Digital Parenting workshops and in-store tech masterclasses near you please visit www.vodafone.co.uk/digitalparenting.
ENDS 
Notes to Editors
Digital Parenting is a free resource – available in print and online – to help parents get up to speed on online safety and wellbeing, as well as providing ideas on how to use technology in a positive way. It aims to help every family in the UK live a happy and safe digital life.
To date over 7 million copies of Vodafone's free Digital Parenting magazine have distributed making it officially the 2nd largest print magazine in the UK. The printed resource, available in schools since 2012, will launch its new issue in January. Request a free copy today.
Research conducted by YouGov with 2,321 adults with children under the age of 16, undertaken in September 2019.
The Digital Pledge tool has been designed for families with children of all ages, with tailored advice for ages 5-7 years, 8-10 years and 11-13 years.
About Emma Bunton
Emma Bunton is a solo artist, radio presenter, Spice Girl, owner of eco-baby brand Kit & Kin and mum.  For more information see www.emmabuntonofficial.co.uk.
About Digital Awareness UK
Digital Awareness UK is a leading digital wellbeing agency working with schools and organisations in the UK and internationally, empowering young people and families to use technology safely. They deliver inspiring school programmes and create engaging content that has educated millions of students, parents and teachers about topics from sexting and grooming to entrepreneurship and addiction. Visit www.digitalawarenessuk.com.
About #Goldilocks
In September 2019 Vodafone delivered a copy of #Goldilocks, a book written by Jeanne Willis and illustrated by Tony Ross, and created in partnership with Andersen Press to every primary school in the UK. It helps parents and children talk about social media and how to use it responsibly. More than 20,000 copies of the book have been sent to schools as a resource to encourage conversations about the importance of being kind to others when using social media.