Legendary Liverpool and Egypt striker Mohamed Salah becomes an ambassador for Vodafone's international schools programme which provides education to half a million refugees.
Mohamed Salah has become the first Ambassador for Instant Network Schools as the programme prepares to expand into his home country of Egypt for the first time.
By 2025, 255 new Instant Network Schools will be opened, including 20 schools planned this year. Instant Network Schools was set up in 2013 by the Vodafone Foundation and UNHCR, the UN Refugee Agency, to give young refugees, host communities and their teachers access to digital learning content and the internet.
Instant Network Schools is an important initiative that I am proud to represent.
Mohamed Salah said: "I'm partnering with the Vodafone Foundation and UNHCR to close the gap between the education available to refugees and their peers living in settled communities. Instant Network Schools is an important initiative that I am proud to represent which is transforming learning for a generation of young people across sub-Saharan Africa and soon also in my home country, Egypt."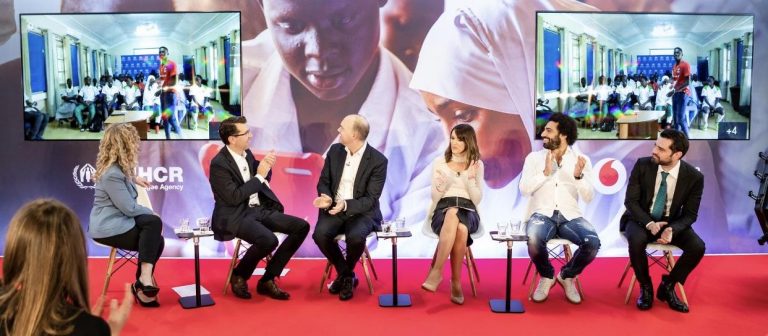 To date, the Instant Network Schools programme has benefited more than 86,500 students and 1,000 teachers, ensuring that refugees and children from the communities that host them have access to accredited, quality, and relevant learning opportunities.
The Vodafone Foundation and UNHCR are jointly investing €26m (£22m) to expand the programme to benefit 500,000 refugee and host community students as well as 10,000 teachers.
Andrew Dunnett, Vodafone's Group Director of Sustainable Development Goals (SDGs), Sustainable Business and Foundations, said: "Mohamed Salah shares our passion about the importance of education as a pivotal building block for personal and societal development, and will help us to promote and expand the Instant Network Schools programme."
For more information, visit the Vodafone Foundation website.
Instant Network Schools
An Instant Network School transforms an existing classroom into an online hub for learning, complete with internet connectivity, sustainable solar power and a robust teacher training programme.
At the heart of an Instant Network School is technology provided by the Vodafone Foundation, the Instant Classroom, a digital "school in a box" that can be set up in a matter of minutes, including 25 tablets for students, a laptop, speaker, projector, a 4G-enabled Wi-Fi router, and a library of ready-made educational resources.
A recent evaluation of the existing programme over one year showed a positive impact on learning outcomes, including an increase in informational communications technology (ICT) literacy of 61% for students and 125% for teachers, improved confidence, motivation and academic performance by students. Wider analysis shows higher levels of school attendance, with examples of young people accessing tertiary education from within refugee camps for the first time.
Vodafone is UNHCR's largest corporate partner for Connected Education, supporting the delivery of the United Nations' Sustainable Development Goal (SDG) Four (ensure inclusive and equitable quality education and promote lifelong learning opportunities for all) and SDG 17 (strengthen the means of implementation and revitalise the global partnership for sustainable development).
About Vodafone Foundation
The Vodafone Foundation is at the centre of a network of global and local social investment programmes. The Vodafone Foundation's Connecting for Good programme combines charitable giving and technology to make a difference in the world. The Vodafone Foundation is an independent UK registered charity, registered charity number 1089625.
About UNHCR
UNHCR, the UN Refugee Agency, is a global organisation dedicated to saving lives, protecting rights and building a better future for people forced to flee their homes because of conflict and persecution. We deliver life-saving assistance like shelter, food and water, help safeguard fundamental human rights, and develop solutions that ensure people have a safe place to call home. We work in over 130 countries, using our expertise to protect and care for millions of people.