Innovative new data analysis platform developed to help boost player performance, wellbeing and recovery of the 2021 Lions team.
Vodafone launches PLAYER.Connect, a first-of-its-kind performance dashboard that uses Internet of Things (IoT) technology to revolutionise how player data is evaluated at an elite level.
The British & Irish Lions are the first team to use PLAYER.Connect, adopting the new platform throughout the 2021 Tour, including at The Vodafone 1888 Cup and in all three Test matches.
Cutting edge IoT technology aggregates data from multiple devices worn by the players into one dashboard in real-time, allowing performance data to be viewed, analysed and acted upon instantly, from anywhere in the world.
The aggregated dashboard allows coaches and analysts to optimise player performance and welfare on and off the pitch in real-time, through improved management of player workload and recovery, live adjustments in-game and during training, and 24/7 monitoring of both mental and physical wellbeing.
Connect is a huge step-change from the current setup used by coaching staff, which currently relies on data being collated and analysed manually for each player, after the event, limiting its effectiveness.
Vodafone has announced the launch of PLAYER.Connect, a first-of-its-kind performance dashboard that is being used by The British & Irish Lions throughout the 2021 Tour to South Africa.
Using cutting edge Vodafone IoT technology, PLAYER.Connect collates data from players' existing wearable devices into one aggregated dashboard, in real-time. PLAYER.Connect makes player data easy to view and analyse, allowing coaches to make fully informed performance decisions and improve player welfare on and off the pitch. This includes 24/7 monitoring of players' physical and mental wellbeing, so action can be taken to optimise physical recovery and better prepare for the next match. It also means live adjustments can be made both in the game and during training*.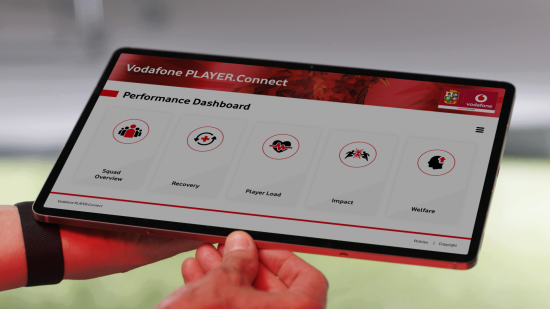 The dashboard combines short term 'acute' GPS, heart rate and impact data, which is delivered live, with additional 'chronic' data on off-pitch recovery and physical and mental wellbeing, which is transferred before and after each session. This data helps provide a holistic view of the wellbeing of both the team and the individual athletes, including Vodafone player ambassadors Maro Itoje, Stuart Hogg, Hamish Watson, Tadhg Furlong and Louis Rees-Zammit.
Lions Head of Strength & Conditioning, Paul Stridgeon, praised the dashboard's impact to date, saying: "The Vodafone PLAYER.Connect platform is a huge breakthrough in performance monitoring. Vodafone's innovation is supporting our aim to achieve consistently high levels of performance. The dashboard lets us maximise the output of our current monitoring, and is helping us provide detailed analysis of all wellness, training and match data throughout the 2021 Tour. We are already starting to see the benefits, and are confident that using this platform will support our ambition to beat the Springboks."
The platform solves several long-standing issues in sport performance analysis. At the moment, data is transmitted via Bluetooth from each individual wearable separately, after the event, and must be collated manually by an analyst. Across a whole squad, this means the full data set may not be available until two days later, and is difficult to analyse in context, placing significant limitations on how player data can be evaluated and the speed at which it is acted upon.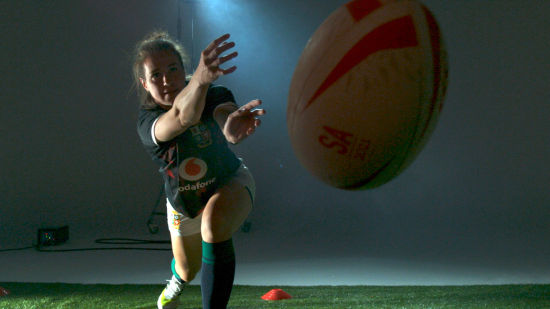 Vodafone Consumer Director, Max Taylor, said: "We are thrilled to be launching PLAYER.Connect for the Lions, and excited to see it put to the test on the 2021 Tour. This is the perfect example of how our commitment to innovation can make a real difference – on the biggest stage, under the most pressure. This platform can help any elite team, in any sport – and we're excited to see the Lions put it through its paces and show what a difference it can make at the very highest level."
The British & Irish Lions began using PLAYER.Connect during their training camp in Jersey, in preparation for the Vodafone 1888 Cup match against Japan. They are the first elite team to use the platform in a competitive fixture, and will continue to use PLAYER.Connect throughout the 2021 Tour, including in all three Test matches against South Africa.
PLAYER.Connect can be used effectively across any elite sport, both team and individual. Following a successful deployment on the Lions Tour, Vodafone will be carrying out a review into future commercial rollout of the dashboard across other elite teams and athletes.
-ENDS-
Notes to Editors
*Examples of all performance benefits are included in the notes below.
About Vodafone IoT.nxt
IoT.nxt is a Vodafone-owned software development company that specialises in dynamic internet of things equipment and software solutions and recently benchmarked the best-in-class IoT platform for Edge, Data Management, Monitoring and Usability by MachNation.
About Vodafone PLAYER.Connect
Vodafone PLAYER.Connect is a first-of-its-kind performance dashboard that uses cutting edge Vodafone IoT technology to aggregate data from multiple existing player wearables in real-time, allowing it to be viewed, analysed and acted upon instantly, from anywhere in the world.
PLAYER.Connect was produced by the Vodafone IoT.nxt team, with the support of specialist performance consultants who advised on the sport science requirements. The British & Irish Lions will be the first elite team to use PLAYER.Connect, and Vodafone has collaborated closely with the Lions Performance Team to ensure the dashboard meets all their requirements for the 2021 Tour, of which Vodafone is Lead Partner.
Benefits of the PLAYER.Connect include:
The ability to view and compare all data for any given individual across the team, allowing for fully contextualised decisions that consider everything from physical fitness and performance on the pitch to nutrition, sleep, and recovery off it. For example, a team-wide drop-off in training performance could indicate an issue with adapting to altitude, rather than individual shortcomings.
The ability to track performance and welfare across multiple days, weeks and months, allowing better optimisation of workload and preparation. For example, a player could already be nearing their target for impacts in training by midweek, meaning they need to taper off in future sessions ensuring they're in the best possible condition for the next fixture
The ability to make live adjustments, both in-game and during training, allowing coaching staff to pre-empt potential injury risks in training and make instant performance decisions on a matchday. For example, coaches can spot when a player has hit their physical limit and can adapt accordingly.
The ability to monitor player welfare 24/7, on and off the pitch, allowing for better support of both mental and physical wellbeing. For example, a change in a player's eating or sleeping habits is often an indicator of a shift in their mental health, allowing coaches to provide support.
The ability for performance staff to analyse player data from anywhere in the world, instantly, providing greater flexibility on staff numbers. For example, a touring team with limited spaces for analysts (especially post-COVID) could have a fully staffed remote 'performance hub' in the UK.
About Vodafone & Rugby
In May 2019, Vodafone UK announced a two-year partnership with Wasps rugby and Wasps Netball to bring to life the benefits of 5G technology. Trialled at a demo during the Wasps vs London Irish match in October 2019, Vodafone tech provided new camera angles and close-ups to get fans involved with the on-pitch play and give them "5Gamechanger seats" – the best seats in the house. Video from 360° cameras placed around the pitch – including in the players' tunnel, dug-out and south stand – was streamed over 5G to give fans a real-time perspective on the game, getting them closer to the action than ever before.
In September 2019, Vodafone Ireland signed an extension agreement to be principal sponsor of the Irish Rugby team and communications partner to the Irish Rugby Football Union (IRFU) until 2024. The agreement also saw Vodafone become official sponsor of the IRFU Women's Interprovincial Championship. The multi-year deal will see Vodafone and the IRFU work together to use both new and existing technology to create events, activations and content that will benefit all rugby fans and Vodafone customers in Ireland.
About British & Irish Lions
The British & Irish Lions are one of the most famous teams in the world of rugby. Every four years, the Lions – selected from the national sides of England, Wales, Scotland and Ireland – head to the southern hemisphere to do battle with rugby heavyweights New Zealand, Australia or South Africa.