Thank You to our customers for voting us the Best Mobile Network in the UK. Here's what we've been doing to build our most reliable network ever.
By Kye Prigg | Head of Mobile Networks, Vodafone UK
Our customers are our top priority at Vodafone UK. We want you to have the best possible experience when you're using our network. That's why we're thrilled that so many of you voted us the UK's Best Mobile Network at this year's Trusted Reviews Awards, and we'd like to say a big Thank You for the honour.
To ensure that our network performs at its best, we've been upgrading our technology. Project Beacon, our multi-billion-pound network upgrade programme, is on track to be largely complete by the end of March, providing even better coverage to 98% of the UK population.
For a quick look at what we've been doing to build the UK's Best Mobile Network, read on.
Building the UK's Best Mobile Network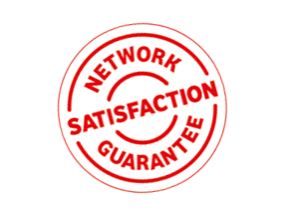 Since the beginning of 2014 we've invested around £2 billion in our network and services across the country, and I'm proud to say that our network is performing at its best ever level. That means fewer dropped calls, access to high speed mobile data as well as an even better success rate when connecting to the number you're ringing – the first time you try. Plus, with our Network Satisfaction Guarantee, new and upgrading customers can test the strength and quality of our network before fully committing.
Alongside our ongoing network improvements, we're also planning for the UK's digital future. Earlier this month, we announced a partnership with CityFibre, the UK's largest alternative provider of fibre infrastructure, to bring Gigabit-capable full fibre broadband to up to five million UK homes and businesses by 2025. Here's what that means for our customers. On a network capable of transmitting a speed of 1 gigabit (or 1,000 megabits) in one second, you could download a 25 gigabyte Blu-ray movie in 8 minutes, not 2.8 hours.[i] Or if you love video games, you could download a 5 gigabyte VR game in 1.7 minutes instead of 34. And that's just for starters.
Making smarter use of technology
Building a network that can handle Gigabit speeds will take time, of course. Right now, we're modernising our network by making smarter use of our existing technology. One important method we're using is combining or "aggregating" different bands of spectrum – those radio frequencies used to transmit mobile signals – to increase capacity and boost data speeds.
So far we've upgraded more than 2,300 sites across the UK by combining two or three separate bands of spectrum using a method known as "carrier aggregation", and we'll continue to expand this footprint. We're also rolling out "4-way aggregation" sites, combining four bands of spectrum. This will enable the latest smartphones to achieve data speeds in excess of 500 megabits per second (Mbps).
And we're not stopping there. To provide additional bandwidth for customers in places where data demand is high, we've deployed a technology known as Massive MiMo. The key building block for 5G, Massive MiMo has multiple antennae to send and receive data more efficiently, boosting capacity where lots of people are connecting to the network at the same time. This technology is now available in various locations across the UK, including in Newbury, and will be rolled out in the next few weeks to expand coverage at popular events.
Improving our network in cities, towns and rural areas
We've been improving our network at major transportation hubs across the UK. Gatwick now offers the fastest Vodafone 4G speeds of any UK airport, with download speeds of up to 200 Mbps, and next we'll be working on improvements at regional airports too. We've also been upgrading network coverage at busy train stations in London, including Euston, London Liverpool Street, London Victoria and Paddington, with more on the way.
That's not all. By reallocating or "refarming" our existing 3G spectrum to 4G across a large part of the country, we've been increasing 4G availability and improving data speeds in 11 cities. These are Manchester, Liverpool, Birmingham, Bristol, Glasgow, Cardiff, Stoke, London, Portsmouth, Reading and Southampton, with more cities and towns to come – such as Leeds, Sheffield, Brighton, Edinburgh and Newcastle, among others over the coming months.
Via our Grow the Grid programme, we're expanding our 4G coverage to more rural areas that have never had a moblie signal before. Our network now covers people and businesses in even more hard to reach locations, including Farmborough, Timsbury, Winsham, South Chard and Nympsfield in the South West, Senghenydd in Wales and Fownhope in the West Midlands. We will continue to work on expanding our coverage as we add up to 800 locations nationwide.
Make the most of our network with Vodafone's festive offers
To enjoy our best mobile network ever, take advantage of our fantastic deals on selected SIM only plans, as well as extra data on tablets for great-value gifting. We've also got offers on mobile broadband, selected mobile phones and lots of accessories. With our new Vodafone Passes, you'll be able to access more entertainment and apps that won't use up your data than with any other UK network. And if you're a Pay as you go customer, you'll never pay more than £1 a day with Pay as you go 1.
To all our customers, Thank You for choosing Vodafone UK as your network provider – we're proud to have been voted the Best Mobile Network in the UK.
Notes to Editors
[i] A gigabit network is capable of transmitting a peak achievable speed of 1 gigabit, or roughly 125 megabytes of data, in one second. In the above example, the effective download speed is 20 Mbps for a typical European 'legacy network' and 0.4 gigabits per second for a full fibre to the home network.
[ii] For the latest customer news, competitions and 24/7 support, follow us on Twitter @VodafoneUK.