In February 2019, 'aeroponic farming' start-up LettUs Grow won a Vodafone UK Techstarter Award. What impact did this have on their development? We decided to catch up with them to find out.
The Bristol-based agriculture company, LettUs Grow, specialises in designing aeroponic farming technology and farm management software for indoor and vertical farming.
Aeroponics is the art of feeding plants without needing any soil; instead a nutritious air or mist is sprayed over the roots. The aim is to deliver higher crop yields with reduced environmental impact compared to conventional farming.
"This could massively change the way we farm," Jack Farmer, LettusUs Grow's Chief Scientific Officer and Co-founder, told Vodafone UK News.
In a nutshell, the company supplies ready-made crop containers that enable anyone to grow their produce, such as leafy vegetables, herbs or salad, in a controlled environment. This new methodology gives growers far more control over the conditions in which their crops are grown, as well the ability to harvest all year round.
The Techstarter programme, in partnership with Social Tech Trust, aimed to uncover and develop ideas that improve health, education, social mobility and environmental protection through technology.
LettUs Grow was one of the winners in the 'profit' category, taking home £45,000 in prize money as well as access to Vodafone's expert advice and services.
We caught up with the appropriately named Mr Farmer to find out how Techstarter had helped the business progress.
'Valuable support'
"We were very keen on the level of mentorship and support available from the awards," Mr Farmer told Vodafone UK News, explaining why the firm entered the competition.
"We were still very small at that point, headcount-wise. It was a critical time where we had to start commercialising as a business."
The award helped LettUs Grow market its products more effectively, he said.
"We had lots of valuable support from Vodafone – the messaging around our products really helped."
Headcount has now more than doubled – from 12 employees to 28.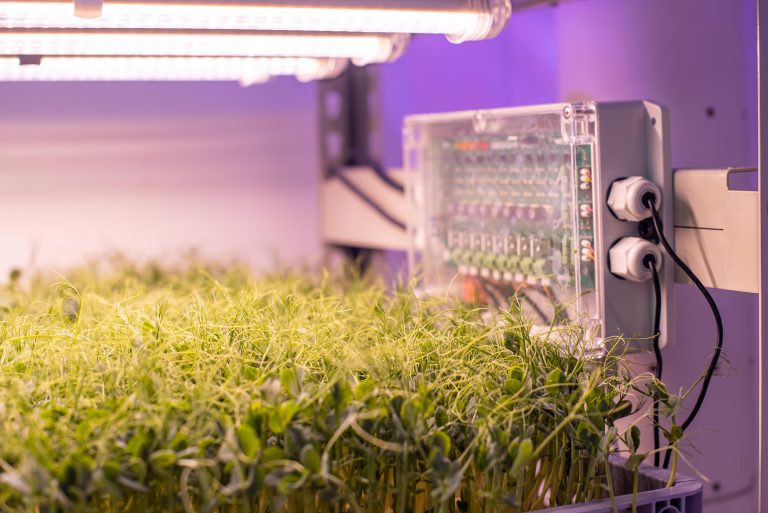 Mr Farmer says the award also helped the firm raise further investment that enabled the company to build a research and development centre in Bristol. The new laboratory gave them the tools they needed to improve products and services, and this helped them commercialise their first product in the UK and EU – the DROP & GROW container farm.
But how has the coronavirus pandemic impacted the firm's development?
"We've managed to keep growing but with a skeleton crew of individuals on site," said Mr Farmer, "but it's been difficult. I've been really impressed with how the team has continued to progress."
What are the Techstarter Awards?
Vodafone UK and Vodafone Foundation launched Techstarter in 2018 with the aim of helping start-up companies who wanted to develop ideas that harnessed the use of technology for good causes. The awards stipulated that companies who worked in the health, education, environment or social space were eligible to win. The organisations had to be UK-based.
Inventors, innovators, charities, social enterprises, businesses and entrepreneurs were invited to take part and submit their prototype ideas. All entries had to have a clearly defined social purpose.
The judges chose eight winners across two categories (profit and non-profit), each receiving £35,000 and a 12-month programme of support and advice from Vodafone UK. From this group of eight, Vodafone employees chose two companies to receive an extra £10,000 award.
The Techstarter Awards was a valuable resource to all of the winners. Vodafone is now looking at developing and supporting future 'tech for good' programmes.