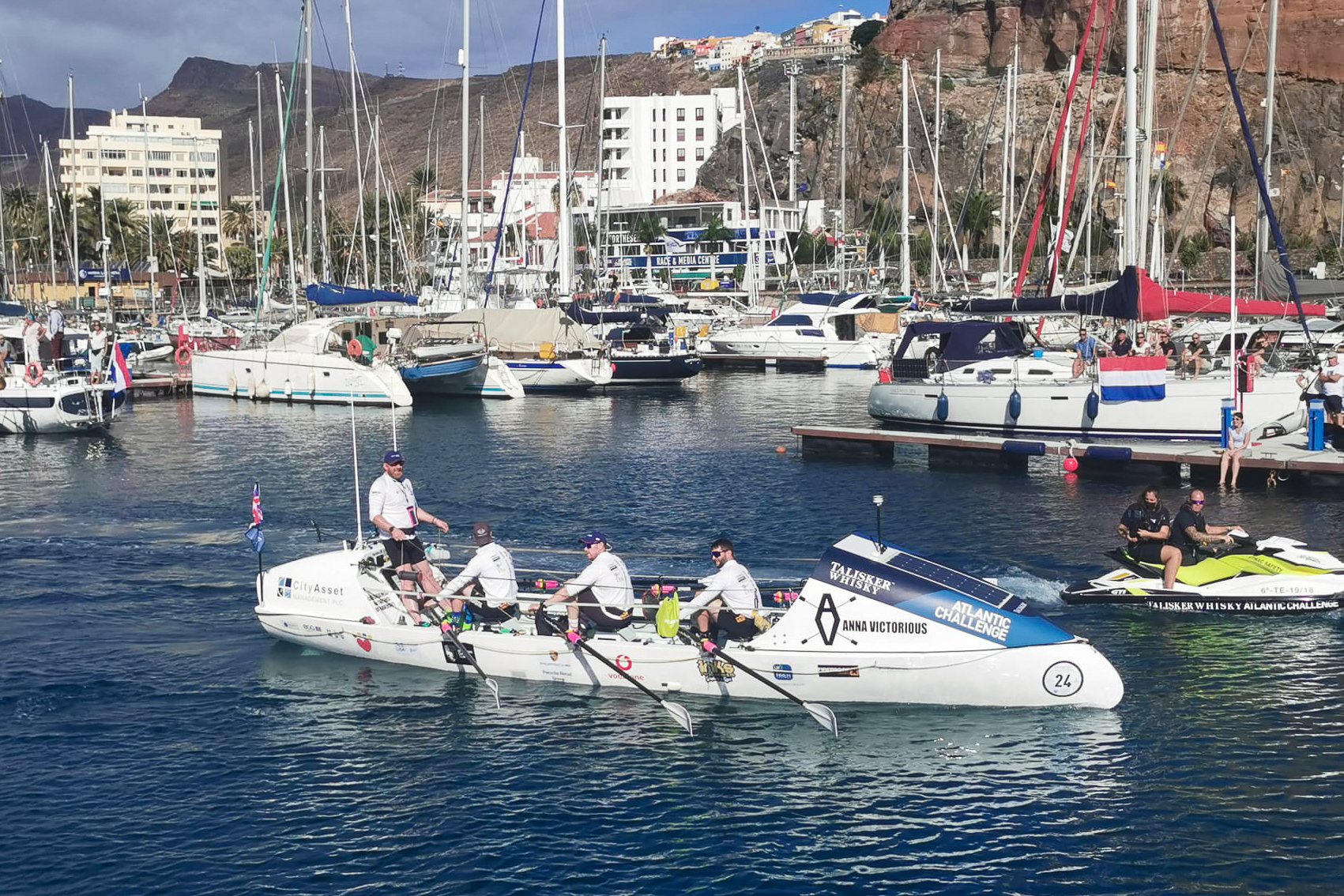 The Anna Victorious team set off on its epic voyage on Sunday 12 December, equipped with satellite phone kit provided by Vodafone, its communications partner.
Ed Smith had just finished receiving a briefing from his team's 'weather router', Dawn, when Vodafone UK News caught up with him.
When you're just about to set off across the Atlantic in a four-person fibre glass rowing boat, the weather is of vital importance. Not just because storms and giant waves could threaten your lives, but also because finding a good following wind could make the journey a little more achievable.
The Anna Victorious team comprises four men rowing 3,000 nautical miles unaided across the Atlantic Ocean; rowing for two hours then trying to sleep for two hours in two tiny cabins fore and aft; living on dehydrated packet food, burning up to 12,000 calories a day, and going to the lavatory in a bucket. Lacerated hands, sore backsides, weary limbs. About 40 days of back-breaking effort.
Why would anyone take on such a gruelling challenge?
For Ed, it's deeply personal. His wife, Anna, died in 2018 from cancer, aged just 38. Their baby daughter Alba was just six months old.
"Before Anna died she said to me: 'Tell Alba she can do whatever she wants to do in this life'," Ed recalls. "This is my way of showing her what we can achieve when we put our minds to it."
Anna, who once worked for Vodafone and played netball for the company before joining the police, had a favourite motto: "Every day may not be good, but there is something good in every day". And it is that positive attitude that will help power Ed and his fellow rowers through the dark and difficult days on the unforgiving ocean.
When we spoke, two days before they were due to embark from La Gomera in the Canary Islands, Ed, a former Firearms Officer in the Thames Valley and Metropolitan Police, said: "We're feeling fairly relaxed. There are some nerves, but they're good nerves. We're ready to go now."
All four rowers – Ed Smith, Rob Murray, Adam Green and Jack Biss – are sports fanatics. Ed represented his country in rugby and cricket and has completed the winter Fan Dance – a gruelling 15-mile trek across Pen y Fan in Wales' Brecon Beacons, a route the SAS uses to select its toughest recruits.
Rob, also a former copper, came up with the idea to take on the Talisker Whisky Atlantic Challenge. A highly competitive near-professional rugby player, he wanted to break the previous record.
Adam, a power station engineer, has a rowing pedigree both in eights and fours, indoor and outdoor, so he at least should know what he's doing out on the ocean. While Jack has some rowing experience, his main sporting achievements lie in 400m sprinting and long-distance cycling – his longest journey was 3,142 miles from San Francisco to New York.
The team has been in training for the last two years, including 200 hours of practice in the boat around Poole Harbour. But it's almost impossible to prepare for sleep deprivation.
"That will be the most difficult physical thing to cope with," said Ed. "But your body does get used to it.
"I'm more worried about the emotional aspect – missing Alba. I won't see her again until the end of January. We're all dads with kids at home."
They will be able to keep in touch using a BGAN satellite voice and data communications system, two satellite phones, and a conventional mobile, all provided by Vodafone, whose #WeCan employee network supports all Vodafone employees through a cancer diagnosis. Vodafone has been helping the Anna Victorious team financially and practically since 2020.
"We'll definitely be on the phone on Christmas Day," said Ed.
The Anna Victorious team is raising money for Victoria's Promise, a charity that supported Anna throughout her treatment, offering her counselling, childcare and cleaning services.
Vodafone will be following the team's progress across the Atlantic. You can follow @annavictorious2 on Twitter for updates and if you'd like to make a donation, click through to the team's Just Giving page.