Sadiq Khan inaugurates Vodafone UK's new digital hub in London.
Fronted by curved glass and framed in slate black, The Speechmark is arguably now one of the most striking buildings in Southwark – an area of London already brimming with landmarks including the Tate Modern and City Hall. Vodafone's new digital hub was formally opened today by the Mayor of London, Sadiq Khan, in an event that was about more than just a slickly re-designed building.
The Speechmark is a witness to Vodafone's commitment to London's digital future. It's created the space for talented people to work on 5G tech development, and has helped to secure the Bankside area of the city as one of the fastest-growing centres for creative and digital expertise in the capital. Many of the 1000 staff based at The Speechmark will be helping to make Vodafone's commitment to 5G rollout – and the multiple other next-generation technologies whose development 5G makes possible – a reality.
When it comes to rolling out 5G, most people think of network engineers working on infrastructure such as antennas and fibre optic cables. But it's software developers and product designers who will be working on the next generation of apps and services able to take advantage of 5G's capacity, speed, and low latency. People such as developers James D'Rozario and Ally Margarint, as well as designers Emma Murray and Adam Butt.
Speaking with James, Ally, Emma and Adam gave Mr Khan an insight into the creative work they do every day. It was clear that digital skills such as theirs help produce tangible, scalable benefits. He was especially impressed at how they all worked together, collaboratively, rather than in isolation, saying 'I love the fact that you've got staff from different departments, different teams swapping ideas, working together. I think it bodes well, not just for the future of Vodafone but the future of our city as well.'
Scott Petty, Vodafone's CTO, introduced Sadiq Khan to a sophisticated interactive model of London made of Lego. It was commissioned by Vodafone from Bright Bricks and showed how faster, more responsive 5G networks in towns and cities will usher in a new age of interconnectedness using IoT, big data analytics, AI and automation.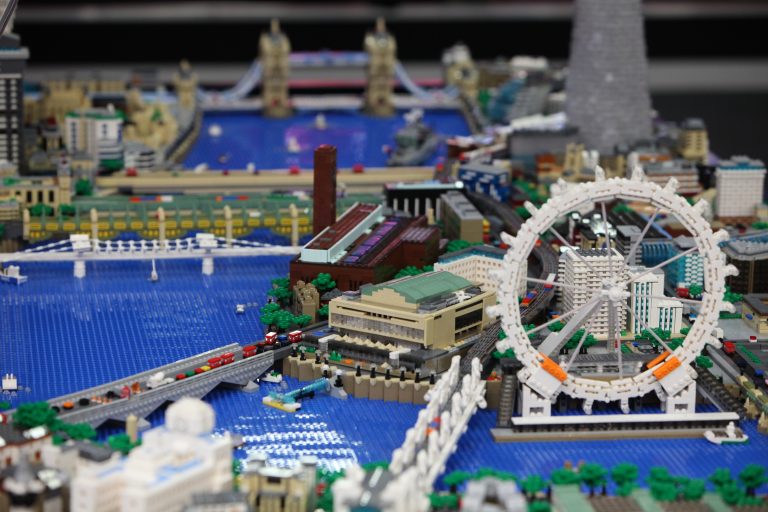 Future Smart Cities will be capable of reacting to the world around them by crunching and analysing data from billions of connected devices and smart objects in a vast wireless infrastructure. The model explored how all of those connected devices can work together in crucial moments. For example, in emergencies they could automatically manage bridges and tunnels to prioritise emergency service vehicles, while sending drones ahead for search and rescue providing valuable real-time intelligence. What makes all of this possible is huge amounts of data which is collected, processed and analysed – not only in real-time, but securely and reliably too.
Ker Anderson, Head of London Area Network, delivered a brilliant quick-fire facts-and-stats presentation to the London Mayor on Vodafone's network in the capital. London has more 5G sites than any other Vodafone city across the globe, and accounts for 50% of Vodafone's 5G traffic, 18% of UK voice calls, and a whopping 22% of data traffic.
The priority Vodafone has given to the capital means that it is uniquely placed to drive the next wave of digital innovation, which in turn will deliver what has been referred to as the fourth industrial revolution and, through it, the economic growth that will help safeguard our future prosperity.
As the Mayor himself put it, 'having 5G won't just increase speed, but capacity, so its potential benefits are humongous – it's about enabling smart cities and other brand new capabilities.'