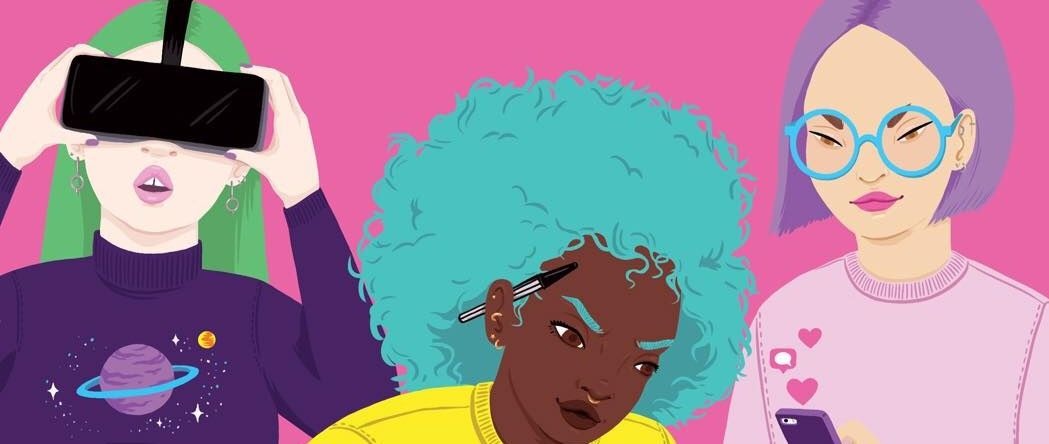 Vodafone is proud to support Step into STEM, a seven month long mentoring and work experience programme that encourages young girls to pursue a STEM career.
A note from Anne Sheehan, Enterprise Director, Vodafone UK:
Encouraging young girls to pursue a career in STEM – science, technology, engineering and mathematics – is especially important today, when many UK businesses face a shortfall in digital skills. Women make up almost half of the UK's workforce, yet they continue to be under-represented in STEM fields. Just 11% of the UK's engineering workforce are women, for example. This is partly because not enough women are choosing to study STEM subjects. The share of women studying engineering and physics has remained largely unchanged since 2012, and in 2017, women made up just 15% of engineering undergraduates in the UK.
That's why Vodafone is proud to support Step into STEM, a 7-month programme that encourages young girls to pursue a STEM career. Run by Girls Talk London, Step into STEM provides mentoring and work experience for girls studying STEM subjects at sixth form. The programme is now in its third year and has so far welcomed 106 participants across London, Birmingham and Leeds. It targets students from low-income backgrounds – of those who disclosed their household annual income, 70% came from homes with annual incomes of less than £25,000.
Today, as Step into STEM's 2018 programme kicks off in London with 40 mentors and mentees, I'm delighted to announce that a Vodafone mentee, Taiwo Lawal, a student at King's College London Maths School, has been accepted to read Engineering at Oxford University. We are absolutely thrilled for Taiwo, who was mentored by Inna Kolosova, Regional IoT Expansion Manager at Vodafone, and wish her every success. You can read about Taiwo's experiences as a Step into STEM mentee below. To learn more about what it's like to be a Step into STEM mentor, read on for our interview with Carmen Gamez Puertas, Commercial Client Partner at Vodafone, also featured below.
Vodafone's Step into STEM mentors
Vodafone employees who volunteer as Step into STEM mentors provide one-to-one support for female students who are based in London. Mentors and mentees meet once a month for an hour, to work on an action plan that focuses on supporting mentees' STEM career choices, skills development and academic achievement. During these sessions, mentors and mentees discuss topics such as interview techniques, CVs, business communication, university applications and networking.
In addition, all mentees participate in a Work Insight Week during the summer. Last year's Work Insight Week, which took place from the 24th to the 28th of July, welcomed 29 mentees. As part of this week they spent a day at Vodafone, learning about various job opportunities, meeting senior employees, touring offices and networking with graduates and apprentices. The mentees also participated in a challenge. At the start of the week, they were divided into four groups and were tasked with creating a product or service using technology that would address a UN Sustainable Development Goal. Each group then had to pitch their business idea to a panel of judges that included Dana Berceanu, Head of Connectivity & Security Practice at Vodafone.
Helping mentees Step into STEM
Feedback from programme participants has been overwhelmingly positive. 90% of mentees said that they found the Work Insight Week beneficial, and upon completing the Step into STEM programme, 85% said they still wish to pursue a career in STEM. Step into STEM alumni have been accepted at universities such as Brunel to study biomedical science and Aberdeen to study biochemistry, and 90% said they would recommend this programme to other students. For more about Step into STEM, contact Girls Talk London, and follow @VodafoneUKLife for updates on the programmes we support to encourage more young women to pursue careers in STEM, including coding workshops led by Code First: Girls, which will run this summer.
My STEM journey: an interview with Taiwo Lawal
Taiwo, how did you hear about Step into STEM, and why did you decide to take part?
I heard about Step into STEM via a talk that the organisers gave at my school, and I decided to take part because I was very interested in a career in STEM. I also saw it as a good opportunity to have a professional mentor to help me through my sixth form journey and as a stepping stone into a STEM career.
What is it about engineering that most interests you as an area of study? Have you decided on what subject area to focus on, whether that's mechanical engineering or bioengineering or something else?
I chose to study engineering because of my love of maths and physics. However, it wasn't the abstract proofs or theories that impressed me the most, it was how maths and physics can be applied to fix real life problems across the world. I also really enjoy problem solving, finding creative solutions to seemingly difficult problems, and because of this engineering seemed like a very good career choice. My interest in engineering spans many engineering disciplines, so I'm going to study a general course and then specialise later, once I've figured out which type of engineer I would like to be.
Having my own Step into STEM mentor was so beneficial to me that this year I volunteered to mentor a younger student at my school, so I can help others in the way I was helped.
How did having a Step into STEM mentor help you – what do you see as the main benefits?
My mentor helped me boost my confidence and feel less apprehensive about putting myself forward, which was one of my main worries at the time. She also helped me create my first CV and worked a lot on my interview skills. At the beginning of the programme I was not even getting any calls back after interviews, but now, after her help, I have secured a very competitive weekend job.
We also worked on UCAS applications, especially in writing my personal statement, where her feedback was very useful. Having my own Step into STEM mentor was so beneficial to me that this year I volunteered to mentor a younger student at my school, so I can help others in the way I was helped.
What advice would you offer other students who may be interested in Step into STEM? How can they make the most of it?
I would say go for it, even if you are not completely sure about going into a career in STEM. The programme exposes you to so many new ideas and areas in STEM, especially in technology, that you otherwise wouldn't know existed. In addition, the mentoring part of the programme is a great opportunity to learn a lot about yourself.
To make the most out of the opportunity you need to go into it open-minded and confident. Don't be afraid to take the lead with your mentor, ask questions, and choose the content for your sessions. The more engaged the mentees are in the session planning, the easier it is for your mentor to carry out the session, as they will then know how they can help you get to where you want to be. The programme is a huge learning opportunity, both about a career in STEM and also about yourself and your personal traits.
At school you're active in debate and sports, including football and longboarding. How do you manage your time so that you can excel in your studies and in your extra-curricular activities?
Currently I play football three times a week and work on Saturdays, I go to the gym regularly and I longboard. In the last year I've been on a six-month engineering programme while taking part in various clubs and societies at school. My advice is that if you enjoy something and it's beneficial to you, you should always find time for it.
The way I manage my time is just by scheduling it. I turn time that I would otherwise have spent watching TV, or scrolling through social media, into productive hours, which frees up time for my activities. Similarly, I try to isolate my activities from my work. I always make sure my work is done first, even If that means leaving late in the evenings. This means that when I leave to come home I know that I've done my work and can spend the rest of my time doing something I enjoy without feeling guilty. I think when you want to keep busy, what is important is you find what works for you, create a plan and then try to stick closely to it, and when you can't some weeks, make sure that you're sacrificing the right things is essential.
Looking to the future, how else do you plan to prepare for a STEM career?
I'm looking to do some internships, especially during breaks from my studies. Hopefully this will give me good insight into engineering in the workplace, and help me decide what discipline I would specialise in for the final years of my degree.
Why I'm a Step into STEM Mentor: an interview with Carmen Gamez Puertas
Carmen, before earning your MBA and joining Vodafone, you studied telecoms engineering, wrote a Master's thesis on how LiDAR (light detection and ranging) satellites analyse water and vegetation surfaces, and worked in a teledetection spatial research centre. What drew you to STEM subjects, why did you choose a career in STEM?
Maths and physics were my favourite subjects in school. Creativity, innovation, and invention are key drivers for me, I have always enjoyed solving problems by applying logical thinking or different perspectives, and I'm good at making new things, especially when technology is involved. The constant evolution of technology, the curiosity I have about IT and communication technology and my ambition to engineer solutions to real life problems made a career in STEM the perfect choice for me.
Having grown up in Spain and worked in France, what brought you to the UK, and why did you choose to pursue your STEM career at Vodafone?
All my professional life I've worked in different countries, companies and business areas. I love embracing change and seeking new opportunities to develop myself, something that my career path reflects. After completing my engineering Master's degree, I worked as a technical consultant for a few years before moving to Paris to study for an MBA while working at Société Générale as part of the programme.
At the time I was working as a Project Manager in the areas of strategy and corporate branding – coming from a technical background, that was a completely new world for me. Back in Madrid I resumed my STEM career at Orange Business Services as a Project Manager for Customer Solution Delivery for a couple of years, before joining Vodafone as a Reporting and Analytics Manager. It was a new role in the business area of Commercial, Marketing and Innovation, and it had all the ingredients I was looking for: problem solving, optimisation, innovation, global and international teams, analytics and more. Moving from Madrid to Newbury was a big change, but four years later I don't regret it!
Why did you volunteer as a STEM mentor with Step into STEM? What are some of the key benefits of being a mentor?
When I heard about the programme, I quickly volunteered to take part. Studying for a STEM career helped me to realise how underrepresented women are in STEM fields, so it's very important that we share our experiences to encourage young girls to pursue a career in STEM.
Being a mentor is really a win-win relationship, you learn a lot about yourself and what is important to you. It helps you to think about your professional and personal growth, it reminds you of your motivations and ambitions when you started your career and helps you to set up priorities. I've also learnt so much from my mentee: to look at things from a different perspective and to be more curious about everything.
My mentee is interested in studying Astrophysics, and thanks to her I discovered many mysteries around supernovae – did you know that the Extremely Large Telescope (ELT) is currently being built in Chile? It will be the largest telescope in the world that's focused on research on the formation of planetary systems and stars.
What aspects of the Step into STEM programme did you find most valuable for mentees?
The programme is very well balanced and designed to make sure all mentees benefit the most from it, from the initial mentor-mentee matching session to the one-to-one sessions covering a variety of topics like interviewing, CV review, UCAS applications and so on. It really helps mentees to improve their ability to identify and tailor their key skills. There is always flexibility in the subjects to be discussed, to ensure each mentoring session fits the mentees' needs. Also, one of the most successful events in the programme is the Work Insight Week, a full immersion that includes office tour visits, team work on different challenges and networking events that mentees really enjoy.
What tips and advice would you have for potential Step into STEM mentors, how can they best prepare mentees for a career in STEM?
Probably the best tip I can provide is to be honest and open, and to share your previous experience, whether that's STEM subjects or business related. As mentors, it's very important that we encourage mentees to pursue their objectives and make sure they develop their confidence to achieve their goals. Advice such as how to prepare for an interview or build a CV can make a big difference.
Also, I would advise mentors to keep in touch with their mentees and with Girls Talk London even after the programme has finished. I am still emailing and meeting my mentee, helping her to go through interviews or internship applications when needed, and I find it a very rewarding experience to help inspire the next generation of STEM experts. I am very proud of all that my mentee has achieved.
What do you do at Vodafone now, and how does your STEM education and training help you in your current role?
Currently I am a Commercial Client Partner for the Central Europe region, I manage the commercial obligations between Vodafone and our Enterprise customers to ensure they're satisfied with our service. I think this is the first time my role has focused on the business aspects rather than the technical ones, but having a STEM background definitely helps me to understand and anticipate the customer's strategic, operational, commercial and contractual challenges, so that I can introduce new innovations and concepts to satisfy their business needs.
Looking to the future, what are you most excited about doing in your STEM career?
I'm interested in how technology is changing the way we do business, from robotics and analytics to big data, and I see myself actively contributing to Vodafone's digital transformation. Traditionally, innovation has related to new product development, but now innovation can come from anywhere: new commercial models, new organisational structures or new process designs. Embracing Vodafone's digital transformation and discovering what's next is the most exciting challenge for me, and it's where I would like to focus my future STEM career path.