From the West Midlands to Northern Ireland, local entrepreneurs have emerged as a driving force behind a new era for Vodafone's retail stores. We went to meet some of them.
Raza Qayum and Greg Henson love being the bosses of their own Vodafone retail stores in Stock-on-Trent and Birmingham.
"We wanted to be in control of our own destiny," Raza told Vodafone UK News.
They are examples of a new breed of entrepreneur – often local and self-employed – that is transforming Vodafone's retail operations.
Under Vodafone's partner agent programme, these managers work for themselves, not as Vodafone employees. But they still receive all the phones, accessories and essential support from the company. Commonly known as 'franchising', it's a way of running stores that's proven popular all over the world.
Now, 98% of Vodafone's 400-plus UK stores are run on this franchise model.
Own your town – know it, inside out

(Raza Qayum and Greg Henson)
"Many innovations to improve the customer experience – from drive-through and appointment booking apps to click-and-collect lanes – were the ideas of the franchisees of those businesses rather than the business itself," explains Jon Shaw, UK Head of Consumer Sales at Vodafone.
And this model enables Vodafone to expand into smaller towns where it might not have been commercially viable to do so before, says Jon.
"We really believe in supporting the UK high street," says Jon.
It was this desire to tap in to such enthusiastic innovative thinking – not to mention the local knowledge and expertise franchisees often possess – that motivated the launch of Vodafone's partner agent programme two years ago.
Better balance
For Raza and Greg, who had both previously worked for other telecoms brands, it has made a big diference to their lives. Greg, the father of two young children, says he was able to achieve a better balance between work and home life.
They took the plunge into franchise management after being spurred on by glowing reports from other partner agents.
"There was so much positive stuff on LinkedIn," says Raza. "We also saw – constantly – photos of people taking the keys to their own Vodafone store."
Raza and Greg believe their experience and local knowledge gives them an edge in the retail space, enabling them to provide better customer service, which in turn leads to greater commercial success.
"At our Hanley store, for example, there's a sizable Romanian customer base so we made sure that we had members of our team who could help them in their own language," Raza explains.
They also scoped out the competition, gauging what worked for those stores and what didn't, using their observations to fine-tune everything from marketing spend to staffing shifts. Their efforts have led to more satisfied customers – one grateful punter even gifted them a box of chocolates.
'Too good to refuse'
A desire for autonomy also appealed to Lindsey Peters, who runs several Vodafone stores in Northern Ireland.
Despite being a veteran Vodafone UK employee who'd won company awards for the stores she'd managed previously, Lindsey says: "It was an opportunity too good to refuse – the obvious next step in my career."
Lindsey, who runs stores in a Belfast high street, and in shopping centres in Craigavon and Newtownards, says her knowledge enables her to tailor the retail experience to suit these different locations, rather than relying on a one-size-fits-all approach.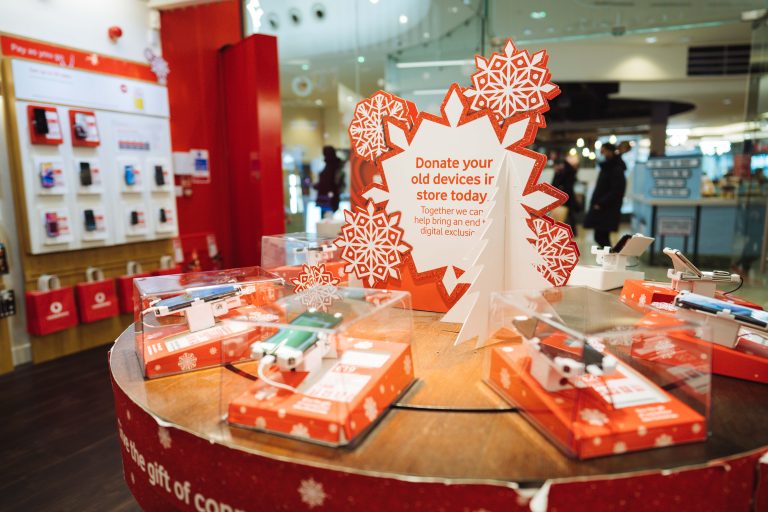 "The shopping centre can help with social media and there are opportunities for advertising and sponsorship there from digital displays to Santa's Grotto," she explains.
"There's less of that on the high street, but there are events that you can get involved in, such as LGBT Pride."
As for the future, the partner agents we spoke to hope, eventually, to take on more stores and other Vodafone-linked opportunities in the towns they now proudly represent.
When asked what one piece of crucial advice they would give to a prospective partner agent, Raza and Greg were unequivocal: "Own your town – know it, inside out."
Lindsey's advice was: "Take care of your staff – it's really important to know them, check-in with them and look after them."
For Vodafone and its entrepreneurial UK partner agents, in-person retail is still going strong.
Stay up-to-date with the latest news from Vodafone by following us on Twitter and signing up for News Centre website notifications.