Kye Prigg, Head of Mobile Networks, explains how Vodafone UK is building its most reliable network ever by aggregating and reallocating spectrum as well as deploying innovative technologies.
By Kye Prigg | Head of Mobile Networks, Vodafone UK
Since 2014, we've invested more than £2 billion in our network and services. I'm proud to say we now provide outstanding indoor coverage and even better outdoor service on our most reliable network ever. But delivering a strong, powerful network isn't just about building even more masts and base stations. Instead, we've made smarter use of our core infrastructure.
We've reallocated a fundamental resource – spectrum, those radio frequencies used to transmit mobile signals. And we've deployed new innovations to make more efficient use of the cell sites we have. We're also continuing to improve our voice call technology. We want customers to know they can absolutely rely on us, and to prove our commitment, we've got an iron-clad Network Satisfaction Guarantee.
Put our network to the test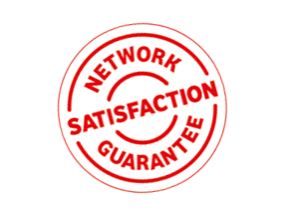 With our Network Satisfaction Guarantee, new or upgrading customers have 30 days to test our service before deciding whether or not to stay with us – that's more than twice as long as our competitors offer. We want to ensure existing customers are satisfied with our network too, so we've made it really easy to send us feedback.
Using the Network Satisfaction feature in the My Vodafone app, customers can let us know how our network is performing. We then top up their accounts with 250MB in bonus UK data to use for seven days as a 'Thank You'. Feedback from customers is helping us continue to improve.
Aggregating and refarming spectrum to improve 4G
As part of Project Beacon, our multi-billion-pound network upgrade, we've been installing modernised 2G, 3G and 4G mast equipment in place of legacy technology. This work will be substantially complete by the end of the year, and I'm pleased to say our efforts are paying off.
We've built our most reliable network to date – we've greatly reduced the number of dropped calls and we've also increased our call setup success rate, which tells you how often you can expect to connect to a number you're ringing the first time you try. And we've carried more traffic on 4G than ever before, with over three-quarters of all data now over 4G.
Alongside project Beacon we've been working on using our spectrum in innovative ways. Recently we've been aggregating different bands of the spectrum we've already got to increase capacity and ensure faster, more reliable 4G data speeds. We've also been making even more 4G capacity available in high traffic areas by 'refarming', or reallocating, our existing 3G spectrum to 4G. By reallocating spectrum in this way we can improve data speeds for customers, reducing the annoying wait for web pages to load.
Refarming has been completed in Manchester, Glasgow, Birmingham, Bristol, Cardiff, Swansea, Portsmouth, and Stoke with more to come in 2017.
Improving coverage with new technology
Another way we're making smarter use of existing resources is by deploying innovative technology. We're the first company in Europe to deploy the newest version of a technology known as Massive MiMo. These multiple antennae mobile units can boost wireless capacity in densely populated areas by up to five times. Boosting capacity helps ensure customers continue to enjoy reliable data coverage even when large numbers of people are using the network at the same time.
We'll be installing Massive MiMo at major railway stations, universities and stadiums across the UK, starting with Bristol, Cardiff, Glasgow, London and Manchester, with more to come.
Vodafone also plans to install 'mini-macro' masts in rural areas to improve 4G coverage for underserved communities. These masts are up to a third shorter and can be deployed much faster compared to a traditional mast. This means that we can now reach more locations than ever before with our best ever network.
The first 'mini-macro' mast we installed is at the Telegraph Museum in Porthcurno, Cornwall. It will cover the village, nearby Porthcurno Beach, and the world-famous Minack Theatre, so locals and visitors can benefit from reliable 4G connectivity. We'll add further mini-macro masts in the South East, Scotland, Somerset, Manchester and Staffordshire soon.
Launching voice over 4G
In May we launched voice over 4G, a technology that ensures customers enjoy crystal-clear voice calls and even quicker connection times. Voice over 4G is already available in London, Glasgow, Edinburgh, Leeds, Reading, Slough, Maidenhead, Aberdeen, Newbury and the M4 corridor for customers using specific handsets*.
We'll work on offering voice over 4G in more cities and we'll continue to expand the number of devices that are compatible with the service. With voice over 4G, customers will know they can depend on making high-quality voice calls whenever they use the Vodafone network.
Notes to editors
*These handsets are the Sony Xperia XZ, the Samsung GS7 and the GS7 Edge.