On World Cancer Day, Alyssa Jones, Head of Vodafone Foundation Australia, talks to us about taking up the fight against cancer with DreamLab, the app she helped create.
The Vodafone Foundation-sponsored, award-winning DreamLab app uses the power of networked mobile devices to help medical and research bodies process the reams of data they generate when conducting cancer research. In the UK, we've teamed up with Imperial College to help their research efforts. Click here for a round-up of our achievements so far.
World Cancer Day unites people, communities and entire countries to the cause of raising awareness and taking action. For Alyssa Jones and her colleagues, collaboration and innovation are central to their role in fighting cancer.
What's the elevator pitch for DreamLab?
In the world of medical research, having limited access to specific computers is a big obstacle to progress. We all carry around a small, but very powerful computer in our pockets. The DreamLab app harnesses the power of phones and uses them to help speed up cancer research.
Where did the idea for DreamLab come from?
The Vodafone Foundation was looking for new partners and programmes to bring its "tech for good" vision to life; we started talking to the Garvan Institute who told us that cancer research generated too much data for its computing power to process. Vodafone's ethos is all about the power of connectivity, and so we thought about how we could use mobile devices to counteract this problem.
Credits: Vodafone
How did the development process work – taking it from concept to working product? 
It was a really ambitious idea that hadn't been done before – when we started there was no version of this on a phone. Luckily, Vodafone saw the potential for it and we worked with people from right across the business, as well as the medical researchers and app developers. Collaboration was key to bringing the idea to life.
Did you get much support?
I think the Vodafone Foundation has a recognisable reputation for doing good in the community, so it wasn't a stretch to get them on board. We have had fantastic support from our app developers here in Australia called Transpire, as well as Amazon Web Services who we worked with at a national and global level; they were hugely supportive in the creation of DreamLab, and key to helping us design our solutions. Amazon thought it was an innovative, brilliant example of how their products can be used, so they were raring to get involved and promote it.
300,000 people now contribute to speeding up cancer research and we've already completed our first project
What results and impact have you seen come out of DreamLab so far?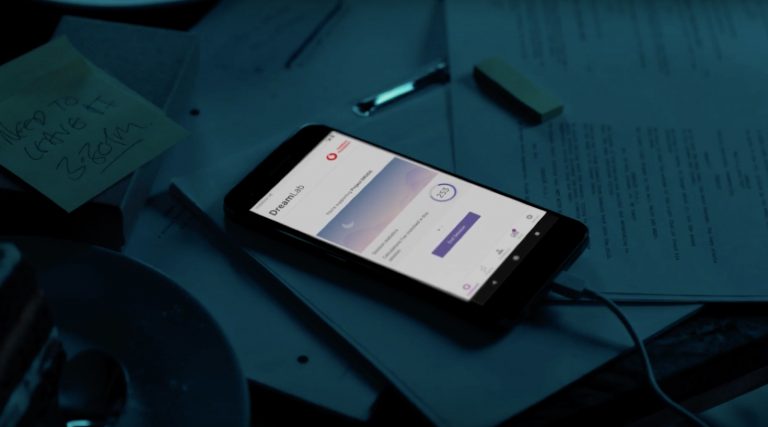 Hundreds of thousands of DreamLab users have contributed tens of thousands of hours to project Decode to speed up the research – our first project from the Garvan Institute in Australia. The project has already found a new way to cluster cancers together in a way that could better indicate treatments for cancers, which means a step closer to personalised medicine.
How do you distribute the data to different products?
We partner strategically across the globe with research institutes which have high levels of excellence and credibility. However, it's the users themselves who choose which project they want to support. Often a UK-based user will want to choose Imperial College in London – because it's local and it's a name they know.
Do you think people struggle with the idea that tech for good can also be profitable and effective?
We've had great feedback. Anyone can support this cause – without putting their hand in their pocket or donating their time in the traditional way. As a DreamLab user, you don't have to set up an account or give us any personal information; we wanted to make it as easy and as low risk as possible.
What do you think about the growing trend of technology fixing social and societal problems? 
Using scale and data – particularly in medical research – is key to making progress, and technology is crucial. I think it's important that companies think more strategically about how they give back. The old days of writing cheques are long gone! Now, it's all about companies not only giving money but also making use of core skills and capabilities. Companies with a technological focus like Vodafone are perfect for accelerating progress and highlighting social good.
What's next for DreamLab? Are you planning to grow it further? 
We've been launching in other Vodafone markets and working to support more research institutes and projects, whilst also working to keep the app as engaging and informative as possible for our users. New markets, new users and creating better user experiences is key to us going forward.
Watch how DreamLab is using tech to speed up the fight against cancer here.