Helen Lamprell, Vodafone Foundation Trustee and General Counsel & External Affairs Director, Vodafone UK, talks about Bright Sky, a new app from the Vodafone Foundation and Hestia that enables people affected by domestic abuse to find local support and offers advice for those wanting to help.
By Helen Lamprell, Vodafone Foundation Trustee and General Counsel & External Affairs Director, Vodafone UK
Domestic abuse affects families right across the UK. Friends and relatives of people suffering from domestic abuse may want to offer support, but they may not know what to do. Indeed, 1 in 3 people surveyed say they don't know how to help a loved one experiencing domestic abuse, according to research by Hestia, a leading domestic abuse charity based in London.
As a Trustee of the Vodafone Foundation, I'm a strong believer in the power of technology and connectivity to make a positive difference in the world. The Vodafone Foundation is a UK registered charity that brings together Vodafone's charitable giving, technology and expertise to improve people's lives, including by supporting vulnerable groups. The Foundation is a supporter of the Employers Initiative on Domestic Abuse, a network of more than 170 companies and public sector organisations that have come together to exchange information about best practices to help staff who are enduring domestic abuse.
As part of its work to help people affected by domestic abuse, the Foundation has teamed up with Hestia to launch Bright Sky, the first app to provide a UK-wide directory of specialist domestic abuse support services.
Using Bright Sky to connect people with local domestic abuse support services
Available in English, Urdu, Punjabi or Polish, Bright Sky is free to download on both iOS and Android devices via the App Store and Google Play Store. Once installed, users can search for their nearest support centre by area, postcode or their current location.
Bright Sky's features include a short questionnaire to help users identify different forms of abuse and the types of support available. The app also offers steps to consider when leaving an abusive relationship.
Designed with the safety of users in mind, Bright Sky offers a secure journal tool that enables users to keep a record of domestic abuse incidents in the form of text, audio, video or images. None of this content is saved on the device itself.
Educating friends and family about domestic abuse with Bright Sky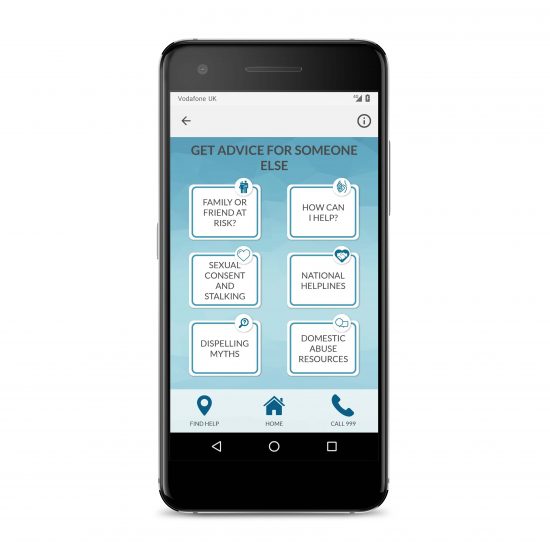 A new survey commissioned by Hestia and carried out by market research company Opinium highlights the value of Bright Sky as a source of advice for people wanting to help those suffering from domestic abuse.
According to the survey, almost 2 in 5 people polled have either suspected, or been made aware, that someone they knew had experienced domestic abuse. But 14% said they don't know how confident they would feel giving advice to someone suffering from domestic abuse, and more than a quarter (29%) said they would not feel confident. For those who have never been aware of domestic abuse in other relationships, around a third said they would not feel confident.
By educating people about the forms of domestic abuse, and providing advice on what to do, Bright Sky can serve as a resource for friends and family with loved ones suffering from such abuse, ensuring that they are in a stronger position to help.
Bright Sky: A further evolution of TecSOS
Bright Sky builds on the work that the Foundation has done to develop TecSOS. Created to support people at the highest risk of domestic abuse, TecSOS is a specially adapted technology that enables the user to contact the police quickly and discreetly when they feel under threat. TecSOS was originally developed in Spain, and has helped over 82,000 vulnerable people across five countries in Europe.
The TecSOS programme was launched in the UK in 2011, and rolled out across the country with the ongoing support of John Liversidge, retired Chief Superintendent and now a TecSOS Senior Manager, and the Thames Valley Partnership team.
Since its launch TecSOS has been adopted by over 90% of UK Police forces. The TecSOS system has supported over14,000 survivors of domestic abuse, and the programme continues to evolve to ensure the products and services developed as part of TecSOS are meeting the needs of the people using them, as well as the Police.
By working closely with the Police, partnering with Hestia, and harnessing the expertise of the TecSOS team, we aim to ensure that more people across the UK whose lives have been affected by domestic abuse are empowered to seek the help and advice that they need.
To learn more about Bright Sky, watch this introductory video and visit: http://www.hestia.org/brightsky/