From smart homes to digital healthcare, here's how the next generation of mobile technology could improve the quality of our lives
1. Smart homes and work spaces
Imagine coming home to find the lights and the temperature are just the way you like it from the moment you walk through the door. As you move from one room to another, more lights turn on and then turn off after you walk away. You relax on the sofa and there's no need to search around for the remote – your smart TV's already switched itself on.
A smart home can "detect when you've come into the house, change the lighting, turn off the alarm system and enable a whole new set of apps that will make life easier for consumers," says Scott Petty, Chief Technology Officer at Vodafone UK.
Demand for smart home technologies like motion sensors and security cameras is growing. In the UK, ownership of smart home devices has doubled to 8% since 2016. Smart home devices are an example of the Internet of Things (IoT), objects which are embedded with sensors and other electronics to send and receive data over a network. IoT will eventually be able to take advantage of 5G technologies.
Our homes aren't the only places that will be smarter – our workspaces are set to be transformed as well. Currently, we rely on being in the office to collaborate, because "innovative and creative things happen when we bump into each other," says David Wood, Chair of London Futurists, a consultancy specialising in predicting future trends. 5G will make it possible to collaborate in virtual meeting rooms instead, Wood says.
Videoconferencing is already a feature of our working lives today, but with 5G we'll be able to meet in 3D virtual spaces. These spaces could be equipped with technologies to improve remote collaboration, such as interactive whiteboards to encourage the exchange of ideas.
Another way businesses could benefit from 5G is by deploying drones. For example, utilities could send drones to examine infrastructure in remote areas, so that engineers can carry out routine inspections without having to travel far.
Vodafone is looking into the possibilities of enabling drones to deliver services across multiple sectors, from farming to smart cities, through 5G "network slicing" – – using the same physical network to accommodate a wide range of applications with different reliability and data requirements. 5G could provide even more reliable connectivity and high quality video transmission by drone.
The ability to stream high quality video is due to 5G's blazing fast speeds and low "latency", which is the time taken by the network to receive and process a request for data. While 4G offers speeds of around 500 megabits per second, the potential with 5G is to be up to 10 times faster than that, depending on how it is deployed.
2. Driverless cars
In a 5G future, we may not need to drive cars anymore – they will drive us around instead. And the cars of tomorrow might not even look like the vehicles we see today.
Cars "will probably change their shape – they don't need to be quite so big and bulky," says Wood.
That's because driverless cars are expected to have built-in safety features to prevent collisions. With fewer accidents, cars may not need large "crumple zones", the parts of a car's shell designed to protect passengers by absorbing the impact from a crash.
In future, "if the car in front of you breaks, it tells your car that it's breaking. That can actually help your car break before your brain's processed that, so it's less likely to have accidents," explains Petty.
3. Smart entertainment
Whether we're at a sports game or a rock concert, "it's not just what's going on in front of our eyes – we want more information" about what we're seeing, says Wood. That's where augmented reality (AR) comes in.
With AR, developers can introduce virtual objects into our real-world surroundings. Open an AR application on a smart device, aim it at a specified location, and virtual characters or things appear right on our screen. Big names in entertainment are already starting to use AR to create engaging new experiences for their fans, offering a glimpse of what 5G will make possible.
Irish rockers U2 for instance have made AR part of the live shows on their current stadium tour. Before the show begins, a huge, two-sided LED screen on stage displays a wall of ice, glowing white. When viewed through U2's AR app, the iceberg looks as if it's melting, a visual reminder of the passing of time.
The melting iceberg is meant to highlight the theme of mortality, according to show architect Ric Lipson. Mortality is a key theme in U2's latest album, and as many fans enjoy watching live shows through their phones, it makes sense to "give them something to look at that's part of the narrative", stage designer Willie Williams explains. Special effects like a melting iceberg are just the beginning. With the advent of 5G, bands will be able to deploy even more visual wizardry to thrill their fans.
5G could also transform how sports fans experience live matches. "You might say 'I wish I'd seen that again from a different angle, and by the way, can I find out more about this player,'" says Wood.
Thanks to powerful computer processors and high definition cameras located at vantage points around the stadium, the technology to re-watch a goal from just about every angle already exists. There is a time lag – it can take about a minute and a half to produce a 360-degree replay. But as the technology advances, it's possible that replays could be delivered in an instant.
Another technology that's changing the face of sports is virtual reality (VR). VR enables us to experience an environment that's completely human-made. With VR, sports fans can watch a game at home and still feel as though they're there in the stadium.
For this year's World Cup, the BBC launched a free VR app that offered fans a virtual private box overlooking the pitch, complete with its own virtual sofa, coffee table and big screen TV. Using a smartphone, tablet or a VR headset, fans in the UK could watch 33 live matches, including the final in Moscow, in VR, and could opt to view the game either from the virtual sofa or from behind one of the goals.
It's early days for sports broadcasting in VR – the BBC's VR app was downloaded more than 400,000 times, a figure dwarfed by the 66.8 million online views of World Cup matches across BBC Sport and BBC iPlayer.
As VR continues to evolve, fans will be able to enjoy the action on the field in new and improved ways.
A critical driver in the evolution of VR is 5G. With 5G, VR will benefit from significantly lower latency, which is especially important in VR. In one study, up to 40% of users reported that they experienced motion sickness when wearing VR headsets. 5G could cut latency to 2 ms from an average of about 22 ms on 4G. This would speed up video transmission to a VR headset and reduce the likelihood of dizziness and nausea when moving around in a virtual environment.

4. Gaming on the go
To mark the start of this year's Wimbledon matches, Snapchat created an AR tennis game that invited fans to compete against seven-time Wimbledon champion Serena Williams. Players in the form of an interactive, three-dimensional "Bitmoji", a cartoon avatar, could challenge a Bitmoji avatar of Williams to a game of virtual tennis. Bitmoji Williams is tough to beat – indeed, Williams herself has said that she has yet to defeat her avatar.
While Snapchat's Wimbledon game is designed to be played on any flat surface, in the home or out of it, other kinds of AR games are location specific. These kinds of games encourage players to go out into the world and explore their surroundings.
"There's a real appetite to play augmented reality games outside the home," says Vodafone UK's Petty, citing 'Pokémon GO' as an example. Launched in 2016, Pokémon GO is a global smash hit – the game has been downloaded more than 800 million times by fans around the world. Players hunt "Pokémon", or pocket monsters, using their smartphones. When the AR camera is turned on, Pokémon characters pop up in specific locations, appearing to be part of the scenery.
With 5G performance and speed, we'll be able to play even more immersive AR games on the go, Petty says. By motivating players to make the most of the great outdoors, Pokémon GO-style games may even offer potential health and social benefits.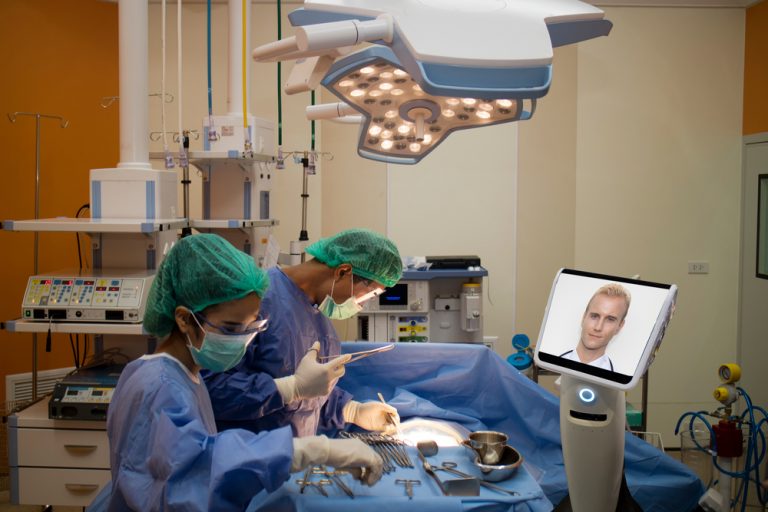 5. Innovations in healthcare
"One of the most exciting areas for 5G is the enablement of healthcare capabilities," says Petty. It's already possible today for a surgeon to provide virtual help in real time to a surgeon located elsewhere via AR, and the technology will improve further with the low latency that 5G enables.
Another type of reality technology is mixed reality, which brings together the virtual world and the physical world. In a mixed reality environment, users can interact with holograms, digital objects formed from light. This kind of mixed reality is a further evolution of AR.
Earlier this year, an Imperial College London team at St Mary's Hospital carried out reconstructive surgery on the lower limbs of patients using mixed reality. The surgeons wore Microsoft HoloLens headsets, mounted holographic computers which allow users to work with digital content. In the operating theatre, these headsets projected images taken from a patient's CT scans onto the patient's leg, showing the location of bones and major blood vessels.
This enabled the surgeon to "look beneath" the patient's skin to find the main blood vessels. Reconstruction work could be performed more reliably and in less time when compared with the traditional method, which relies on ultrasound technology to find the blood vessels in need of repair. The Imperial College team is now looking to test mixed reality with more patients in more treatment centres.
5G is vital to Gigabit UK
Watch an interview with Scott Petty, Chief Technology Officer at Vodafone UK, talking about which sectors are likely to be early adopters of 5G
In Gigabit UK, people and businesses will benefit from connection speeds of 1 gigabit per second, low latency, and more reliable network performance than ever before. For Gigabit UK to become a reality, we need robust fixed technologies as well as 5G.
Vodafone recently announced plans to begin 5G trials across more than 40 sites in seven UK cities – Birmingham, Bristol, Cardiff, Glasgow, Liverpool, London and Manchester – starting between October and December this year.
Wood believes the smartphone will play "an even more central role" in our lives in ten years' time. "We'll feel like the device is a great support to us, doing more of what we want to do," he says.
Petty says he expects 5G devices to start arriving toward the end of 2019. "Our network will be ready for that."
The use in this article of trademarked names and images is strictly for editorial and descriptive purposes, and no commercial claim to their use, or suggestion of sponsorship or endorsement, is made by Vodafone.